The endothelial glycocalyx and its disruption, protection and regeneration: a narrative review
Scandinavian Journal of Trauma, Resuscitation and Emergency Medicine
2016
24:48
Received: 29 October 2015
Accepted: 6 April 2016
Published: 12 April 2016
Abstract
The glycocalyx is a carbohydrate-rich layer that lines the luminal side of the vascular endothelium. Its soluble components exist in a dynamic equilibrium with the bloodstream and play an important role in maintaining endothelial layer integrity. However, the glycocalyx can be easily damaged and is extremely vulnerable to insults from a variety of sources, including inflammation, trauma, haemorrhagic shock, hypovolemia and ischaemia-reperfusion. Damage to the glycocalyx commonly precedes further damage to the vascular endothelium. Preclinical research has identified a number of different factors capable of protecting or regenerating the glycocalyx. Initial investigations suggest that plasma may convey protective and regenerative effects. However, it remains unclear which exact components or properties of plasma are responsible for this protective effect. Studies have reported protective effects for several plasma proteins individually, including antithrombin, orosomucoid and albumin; the latter of which may be of particular interest, due to the high levels of albumin present in plasma. A further possibility is that plasma is simply a better intravascular volume expander than other resuscitation fluids. It has also been proposed that the protective effects are mediated indirectly via plasma resuscitation-induced changes in gene expression. Further work is needed to determine the importance of specific plasma proteins or other factors for glycocalyx protection, particularly in a clinical setting.
Keywords
Bleeding managementFresh frozen plasmaGlycocalyxProtectionRegeneration
Background
The endothelial glycocalyx is a carbohydrate-rich layer that lines the vascular endothelium. The presence of a protein layer on the endothelium was first proposed by Danielli in 1940 [1] and was visualised using electron microscopy in 1966 [2]. Initial investigations of the glycocalyx were hampered as previous staining and fixing techniques destroyed this fragile structure [3]. However, contemporary methods preserve the glycocalyx and have enabled more detailed examination of the structure and physiology of this layer [4].
The glycocalyx is connected to the endothelium via several cell-bound core molecules, mainly proteoglycans and glycoproteins (Fig.
1
). On the luminal surface, the glycocalyx is formed by soluble plasma components, either linked to each other directly or via soluble proteoglycans, glycosaminoglycans and sialoproteins [
5
,
6
]. A dynamic equilibrium exists between the layer of soluble components and the bloodstream, where the blood flow constantly affects both the composition and the thickness of the glycocalyx [
5
]. For example, Ueda and colleagues reported that the glycocalyx in bovine aortic endothelial cells increase in thickness as sheer stress increases up to 3.0 Pa [
7
]. Additionally, the glycocalyx contains a large volume of non-circulating plasma; estimated at 1–1.7 L [
8
,
9
], and has a net negative charge that affects its interaction with plasma constituents, platelets and red blood cells, thereby counteracting microvascular thrombosis and maintaining rheology [
4
,
10
,
11
].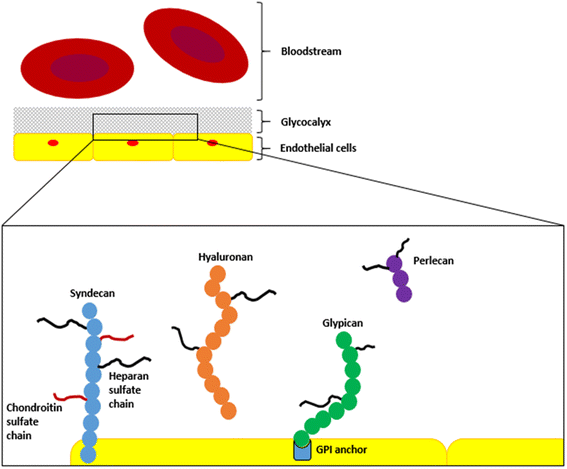 Situated between the endothelium and the bloodstream, the glycocalyx serves several functions including limiting access of particular molecules to the endothelium, influencing blood cell–vessel wall interactions and acting as a mechanotransducer (Table
1
) [
5
,
10
,
12
–
20
]. For example, the glycocalyx is semipermeable to certain macromolecules such as plasma proteins (e.g. albumin) but cannot be penetrated by red blood cells or large molecules such as dextran (>70 kD) [
16
]. Conformational changes in glycocalyx structure also lead to release of nitric oxide, affecting vasomotor tone and tissue perfusion [
18
]. Furthermore, as the glycocalyx binds plasma proteins it creates a high intravascular oncotic pressure at the endothelial surface; The net outward movement of fluid is therefore opposed by this inward-directed oncotic pressure, according to the Starling equation and the paracellular permeability model [
21
].
Table 1
Functions of the glycocalyx
Function

Reference

Forms the interface between the vessel wall and the bloodstream

Reitsma et al. 2007 [5]

Alphonsus and Rodseth 2014 [10]

Maintains the colloid osmotic gradient of the vascular barrier

Rehm et al. 2007 [12]

Acts as a barrier to:

 vascular exchange of water and solutes

Reitsma et al. 2007 [5]

 leukocyte–endothelium adhesion

Henry and Duling 1999 [13]

Lipowsky et al. 2011 [14]

Constantinescu et al. 2003 [15]

Becker et al. 2015 [19]

Acts as a sieve for plasma proteins

Vink and Duling 2000 [16]

Lipowsky et al. 2011 [14]

Provides binding sites for everal molecules, including:

 antithrombin III

Alphonsus and Rodseth 2014 [10]

 tissue factor pathway inhibitors

Reitsma et al. 2007 [5]

 lipoprotein lipase

Kolářová et al. 2014 [18]

 vascular endothelial growth factor

 fibroblast growth factor

 extracellular superoxide dismutase

 hyaluronic acid molecules

Acts as a shear stress sensor and regulator of mechanotransduction

Reitsma et al. 2007 [5]

Florian et al. 2003 [17]

Yen et al. 2014 [20]

Becker et al. 2015 [19]
Other soluble components that bind to the luminal portions of the glycocalyx are unbound hyaluronic acid molecules, superoxide dismutase, antithrombin III, protein C and cell adhesion molecules [18]. Due to the many functions of the glycocalyx, it is perhaps unsurprising that any disruption or damage to this layer contributes towards numerous vascular pathologies [5].
Conclusions
The glycocalyx plays a fundamental role in the microcirculation and in the initiation and regulation of coagulation and inflammation. Therapeutic strategies aimed at protecting this delicate layer are poorly understood at this time. While the various beneficial effects of FFP have been demonstrated, there is still no information as to what the mode of action is and if this is due to a particular constituent of the plasma. Further research is necessary to understand how FFP and other therapeutic strategies can benefit protect the glycocalyx and ultimately the patient.
Abbreviations
COP:

colloid osmotic pressure
FFP:

fresh frozen plasma
GPCR:

G protein-coupled receptor
SDP:

spray-dried plasma
sTM:

soluble thrombomodulin
vWF:

von Willebrand factor
Declarations
Acknowledgements
Editorial assistance with linguistic revision was provided by Meridian HealthComms, funded by CSL Behring.
Open AccessThis article is distributed under the terms of the Creative Commons Attribution 4.0 International License (http://creativecommons.org/licenses/by/4.0/), which permits unrestricted use, distribution, and reproduction in any medium, provided you give appropriate credit to the original author(s) and the source, provide a link to the Creative Commons license, and indicate if changes were made. The Creative Commons Public Domain Dedication waiver (http://creativecommons.org/publicdomain/zero/1.0/) applies to the data made available in this article, unless otherwise stated.
Authors' Affiliations
(1)
Department of Clinical Sciences Lund, Medical Faculty, University of Lund, Lund, Sweden
(2)
Department of Intensive and Perioperative Care, Skane University Hospital, Lund, Sweden
(3)
Department of Anesthesiology, Perioperative Medicine and General Intensive Care, Paracelsus Medical University, Salzburg, Austria
(4)
CSL Behring, Marburg, Germany
(5)
Department of Surgical and General Critical Care Medicine, Medical University Innsbruck, Innsbruck, Austria