Original research

Open Access
Daily volume of cases in emergency call centers: construction and validation of a predictive model
Scandinavian Journal of Trauma, Resuscitation and Emergency Medicine
2017
25:86
Received: 31 March 2017
Accepted: 23 August 2017
Published: 29 August 2017
Abstract
Background
Variations in the activity of emergency dispatch centers are an obstacle to the rationalization of resource allocation. Many explanatory factors are well known, available in advance and could predict the volume of emergency cases. Our objective was to develop and evaluate the performance of a predictive model of daily call center activity.
Methods
A retrospective survey was conducted on all cases from 2005 to 2011 in a large medical emergency call center (1,296,153 cases). A generalized additive model of daily cases was calibrated on data from 2005 to 2008 (1461 days, development sample) and applied to the prediction of days from 2009 to 2011 (1095 days, validation sample). Seventeen calendar and epidemiological variables and a periodic function for seasonality were included in the model.
Results
The average number of cases per day was 507 (95% confidence interval: 500 to 514) (range, 286 to 1251). Factors significantly associated with increased case volume were the annual increase, weekend days, public holidays, regional incidence of influenza in the previous week and regional incidence of gastroenteritis in the previous week. The adjusted R for the model was 0.89 in the calibration sample. The model predicted the actual number of cases within ± 100 for 90.5% of the days, with an average error of −13 cases (95% CI: -17 to 8).
Conclusions
A large proportion of the variability of the medical emergency call center's case volume can be predicted using readily available covariates.
Keywords
Emergency medical servicesHealth service needs and demand/trendsModelsTheoreticalSafety management/methods
Background
Emergency dispatch centers are today a key component of emergency care. They receive calls requiring an assessment and emergency assistance is dispatched if necessary. Call centers mobilize a large number of personnel and technical resources. The number of calls treated in the United States is 240 million per year [1] and is continuously increasing [1, 2]. Adaptations to this increase in activity are currently based on the better organization of centers receiving emergency hotlines: procedures for answering and prioritizing calls have been set up, performance indicators are followed in real time, and additional personnel are planned in case of overload or a catastrophic event [3, 4]. Current budget restrictions require emergency services to meet the challenge of increasing activity with fixed numbers of personnel [5].
Simultaneous with the annual increase in activity, emergency call centers must deal with substantial daily and seasonal variations that may seem highly unpredictable. Some factors influencing these variations have already been identified in order to adapt the size of these services to their annual activity [6]. Beyond the annual trend toward increasing activity, other known factors are social and demographic [6, 7] or related to certain events such as heat waves [8, 9] or cyclones [10]. The effect of these occasional events has been most widely studied for admissions to hospital emergency departments. In contrast, factors related to the day of the week and time of day [11], seasonal or yearly variations [12–14], weather or epidemiological factors [15–17] are rarely taken into account when predicting the activity of emergency call centers. To our knowledge, there have been no studies seeking to predict the overall day-to-day activity as related to these factors. Taking these factors into account could make it possible to estimate the level of demand and better meet needs by rationalizing the internal organization of these services, thus improving the efficiency of emergency care.
The objective of this study was to construct and evaluate the reliability of a prediction model of daily case volume in an emergency call center.
Results
Characteristics of study population
From January 1, 2005 to December 31, 2011, 1,296,153 cases were treated by the emergency call center. The mean number of cases per day during this period was 507 (95% confidence interval, 95%CI, 500 to 514; range, 286 to 1251). The annual number of cases increased by 15.6% yearly. The mean number of ambulance interventions per day was 123 (95%CI, 121 to 124) (range, 64 to 195). A weak correlation was observed between the number of cases per day and the number of ambulance interventions (R = 0.31).
Choice of prediction model
The final model selected for predicting the number of cases (Table
2
and Additional files
1
,
2
and
3
) included 17 variables: the periodic function, year (long-term trend), six variables corresponding to the days of the week, holidays (coded as the five periods of school vacations in the study zone and the school vacation period for Paris region inhabitants) and the regional incidence rate of flu and acute gastroenteritis in the preceding week. The factors that were significantly related to an increase in call center case volume, after adjustment for the other variables were year (long-term trend) Sundays; Saturdays; public holidays; Christmas vacation; the regional incidence rate of influenza for the preceding week, and the regional incidence rate of acute gastroenteritis of the preceding week. The factors significantly related to a decrease in call center case volume were Tuesdays and spring break vacation. The variables not retained were the weeks of the year, the regional incidence rate of chicken pox, the local pollen levels, and the school vacation periods of the other regions of France not including the study zone or Paris area. These variables were nonsignificant for the number of cases, and t heterogeneity in the pollen levels make it impossible to interpret the results.
Table 2
Activity prediction variables model for 2005–2009
Parameter

Estimatea

95% CI

Periodic function

0.55

NA

Year (long-term trend)

+ 7.10

(4.36 to 9.85)

Day of the week (Fridayb is reference)

 Monday

− 3.02

(− 14.16 to 8.13)

 Tuesday

− 14.62

(− 25.71 to − 3.54)

 Wednesday

− 5.75

(− 16.83 to 5.35)

 Thursday

+ 1.96

(− 9.14 to 13.07)

 Saturday

+ 251.75

(240.64 to 262.86)

 Sunday

+ 376.07

(364.96 to 387.19)

School and public holidays

 Public holiday

+ 295.03

(277.18 to 312.87)

 Christmas vacation

+ 89.05

(72.16 to 105.94)

 Winter vacation

+ 12.10

(− 6.25 to 30.46)

 Autumn vacation

− 3.81

(− 20.00 to 12.39)

 Summer vacation

− 4.44

(− 13.12 to 4.24)

 Winter vacation (Paris area)

− 8.23

(− 24.26 to 7.81)

 Spring vacation

− 15.83

(− 30.09 to − 1.57)

Epidemics

 Influenza incidence (within 100 ± cases / 100,000 inhabitants the previous week)c

+ 5.76

(4.08 to 7.45)

 Gastroenteritis incidence (within ± 100 cases /100,000 inhabitants the previous week)c

+ 4.74

(0.32 to 9.16)
The model's coefficient of determination (R) during the development years was 0.889, and the adjusted coefficient of determination (after taking into account the presence of 17 variables and 1461 days) was 0.888. The other tests of the model (normality of residuals, homoscedasticity, and autocorrelation) satisfied the quality criteria.
Main results (model validation and performance)
For 2009–2011 (1095 days, Fig.
2
), the model predicted the number of cases within ± 100 for 991 days (90.5%), with a mean error of −13 cases (95% CI, −17 to −8). Presenting the reliability of the predictions on a Bland and Altman graph (Fig.
3
) showed errors greater than 2 SD mainly on days with high activity. Thirty-nine (3.6%) days were predicted with an excess (by more than 100 cases), and 68 (6.2%) were under-estimated. Five hundred seventy nine days with low and high activity were defined through the thresholds of 407 and 607 cases (mean observed ± 100). The model predicted 91% of these days with unusual activity. The mean deviation of 9% wrongly predicted days was 37 cases (95% CI, 29 to 44). The 2 days with greatest underestimates of activity were Sunday Nov. 22, 2009 (788 cases predicted, 1242 observed) and Saturday Dec. 26, 2009 (834 cases predicted, 1251 observed). These were the only 2 days with an error exceeding 350 cases. In comparison, the simpler model, that takes into account the annual average (previous year) of the day of the week increased by a factor of 15.6%, applied to the validation years (2009-2011), showed an accuracy of 54.6% (within ±100), with a mean difference of − 74.72 and 89.9% of underestimated error (> − 100).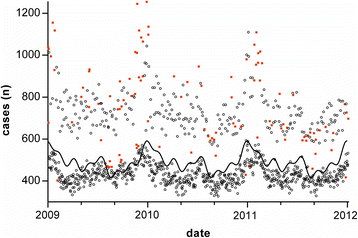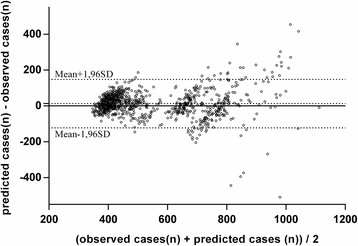 Discussion
To our knowledge no reliable model exists that can be used routinely to predict the daily activity of emergency call centers. Our objective was to construct a dynamic model that was based not only on the case volume of the preceding periods [26, 27] or on sporadic factors. Two techniques, either linear regression models including calendar variables or time series models, are generally used separately for forecasting the daily number of emergency department visits [28]. Our model, based on both calendar and epidemiological variables and including a periodic function to account for the interest of time series, combines the benefit of several types of analysis. Using only variables available at least the week preceding the prediction period, we were able to obtain good results for the prediction of the center's daily case volume. Application of the model to the period not used for its construction (in order to avoid model optimism) provided a prediction within ± 100 cases for 90.5% of the days studied. With the simpler prediction method that takes into account only the annual average (previous year) of the day of the week and the annual upwards trend, the accuracy appeared quite poor compared to our more complex model. This result is interesting but not surprising since this method does not take into account the season, public and school holidays and seasonal epidemic factors. Even if the prediction of activity peaks was less reliable, in than 90% of the days with unusual activity (out of a priori defined limits: mean case volume ± 100) were predicted correctly, and only 2 exceptional days were underestimated with an error exceeding 350 cases. This less accurate precision in peaks of activity may stem from the numerous factors that were not taken into account, often difficult to predict and unreproducible (such as a worldwide unseasonal flu epidemic, a catastrophe, or a large gathering) and therefore impossible to use in this type of model. These two greatly underestimated days corresponded to 2 winter weekends in the exceptional context of the A(H1N1) flu pandemic [29–32], and the controversy in France over the influenza vaccination that had led to the population reacting to any symptom appearing following a flu vaccination. Our data were probably inadequate for predicting the high volumes in the setting of the A(H1N1) flu pandemic. No other exceptional factor or catastrophe was identified for these 2 days, which in addition corresponded to records in activity during the period studied.
There were few days with overestimations (3.6%), which would have resulted in the mobilization of excessive personnel. The model's errors by default would have resulted in a work overload 6.2% of the time, i.e. a deficit of employees on these days. For most of the time, the prediction would make it possible to better distribute the workload by modulating the number of personnel treating calls. The predicted variations would have allowed human resources to be adapted by more or less one operator per day. A prospective study could inform on the impact of this type of organization on the response quality indicators of emergency call centers (e.g., reduction of speed of answer, percentage of calls answered within 60 s). These indicators are inspired by commercial hotlines and are correlated with the number of calls in a day when they are studied with a set organization of personnel. For example, it is known that a high level of calls is associated with an increase in the mean time to ambulance intervention [33].
During the period the model was under construction, the direct interpretation of the relation between the variables showed how important they were in the variability of the call center case volume, but this should be interpreted with precaution. For example, the absence of a significant relation between the winter vacation and the center's case volume, despite covering a large number of ski resorts, may be related to the presence of the periodic function that takes into account the level of winter activity. These simple data concerning notably the effect of the days of the week corrected by the main known confounding factors have not been published to date. These confounding factors are currently taken into account empirically in the organization of call centers based on the mean activity level observed in each center and projected on future activity in a fixed manner. The approach undertaken herein is original in that it provides an estimation of the effect of each day and makes it possible to take into account the additional effect of other factors. We used a linear generalized additive model (GAM) [21–23] instead of a simple linear model in order to enable other centers the possibility to use nonlinear links in their model, nevertheless all variables used in our construction where considered with linear effect.
Limitations
The results of this study are based on a model developed and calibrated on a single call center covering a large area (1.8% of the French population). All cases in the geographic zone studied are directed to this single call center. In addition, this area includes urban, periurban, and semirural populations, with major tourist areas creating demographic variations during the year. To use this model in another center, calibration on a sample of years would be necessary to create the center's periodic function and the case levels. Depending on the economic profile of the area it is possible that other important variables should be taken into consideration. Moreover, it cannot be excluded that the effect associated with explanatory factors change over time, thus regularly requiring a new calibration. We believe that this method can be used elsewhere, including in other countries concerned with adapting to variations in the demand for emergency call services.
The activity of the call center appears higher on weekends, even outside periods of tourist influx. We interpret this as due to the unavailability of primary care practitioners, forcing patients to seek telephone counseling or help in obtaining a medical consultation when most doctors' practices are closed. The fluctuation attributable to mountain sports is mainly visible over whole weeks, and is largely taken into account by the seasonal variations. Thus over-activity at the weekend is not likely to be related to our geographic specificity.
A potentially more precise model could be considered by adding variables such as air temperature, air pollution, recurrent cultural or sports events, or other epidemics. Indeed, if these factors are recurrent and their effect is stable over time, it should be possible to calibrate the model by taking them into account. However, a model taking a very large number of variables into account would be difficult to calibrate and would not respect the parsimony principle that it should be usable in routine practice and comprehensible.
Predicting the number of ambulance dispatches is more difficult and would be less efficient. Indeed, the prediction of the volume of cases is influenced only by the number of calls, the demand. The prediction of ambulance activity is influenced by demand and also by the medical resources (i.e. the number of ambulances available). In our data a weak correlation was observed between the number of cases per day and the number of interventions. The complexity of predictions based on the knowledge of both the demand and the available resources has already been well described in Intensive Care Units [34]. Finally, even in low-activity periods, maintaining a high intervention capacity is necessary in case of heavy demands arriving simultaneously. Furthermore, these emergency response teams are distributed over the geographic area and to modify their numbers would result in losing a part of the area's coverage and increasing the time to intervention.
Conclusion
We have developed a model to predict the case volume of an emergency call center with satisfactory reliability. More than 90% of the days were predicted satisfactorily, using 17 variables available 1 week in advance (seasonality, long-term trends, days of the week, holidays and the regional incidence rates for influenza and gastroenteritis). The model described here could be used to explore other factors that may explain part of the observed increase in the activity of emergency call centers, since it contains the main confounding factors that should be taken into account in assessing the impact on activity. Relying on such predictive models could allow better scheduling of dispatch center staff to match variations in emergency call center volume.
Abbreviations
GAM:

Generalized additive linear model
SAMU:

Service d'Aide Médicale d'Urgence (Mobile emergency and resuscitation unit)
Declarations
Acknowledgements
We thank Linda NORTHRUP and Alison FOOTE for English editing of the manuscript.
Availability of data and materials
The datasets used and/or analysed during the current study are available from the corresponding author on reasonable request.
Authors' contributions
Conception and design: DV, AV, JFT, MM; Analysis and interpretation: DV, AV, XM, SR; Drafting the manuscript for important intellectual content: DV, VD, GD, MM, JFT. All authors read and approved the final manuscript.
Ethics approval and consent to participate
Not applicable.
Consent for publication
Not applicable.
Competing interests
The authors declare that they have no competing interests.
Publisher's Note
Springer Nature remains neutral with regard to jurisdictional claims in published maps and institutional affiliations.
Open AccessThis article is distributed under the terms of the Creative Commons Attribution 4.0 International License (http://creativecommons.org/licenses/by/4.0/), which permits unrestricted use, distribution, and reproduction in any medium, provided you give appropriate credit to the original author(s) and the source, provide a link to the Creative Commons license, and indicate if changes were made. The Creative Commons Public Domain Dedication waiver (http://creativecommons.org/publicdomain/zero/1.0/) applies to the data made available in this article, unless otherwise stated.
Authors' Affiliations
(1)
University Grenoble Alps, Emergency Department and Mobile Intensive Care Unit, CHU Grenoble Alps, Grenoble, France
(2)
University Grenoble Alps, INSERM U823, Institut Albert BONNIOT, Grenoble, France
(3)
University Grenoble Alps, CNRS UMR 5525, TIMC-IMAG laboratory, Team PRETA, Grenoble, France
(4)
Paris Diderot University, Medical and Infectious Intensive Care Unit, Hôpital Bichat Claude Bernard, AP-HP, Paris, France