Original research
Open Access
Correction of hypothermic and dilutional coagulopathy with concentrates of fibrinogen and factor XIII: an in vitro study with ROTEM
Scandinavian Journal of Trauma, Resuscitation and Emergency Medicine
2014
22:73
Received: 10 September 2014
Accepted: 26 November 2014
Published: 16 December 2014
Abstract
Background
Fibrinogen concentrate treatment can improve coagulation during massive traumatic bleeding. The aim of this in vitro study was to determine whether fibrinogen concentrate, or a combination of factor XIII and fibrinogen concentrates, could reverse a haemodilution-induced coagulopathy during hypothermia.
Methods
Citrated venous blood from 10 healthy volunteers was diluted in vitro by 33% with 130/0.42 hydroxyethyl starch (HES) or Ringer's acetate (RAc). The effects of fibrinogen concentrate corresponding to 4 gram per 70 kg, or a combination of the same dose of fibrinogen with factor XIII (20 IU per kg), were measured using rotational thromboelastometry (ROTEM). The blood was analysed at 33°C or 37°C with ROTEM EXTEM and FIBTEM reagents. Clotting time (CT), clot formation time (CFT), alpha angle (AA) and maximal clot formation (MCF) were recorded.
Results
Fibrinogen with or without factor XIII improved all ROTEM parameters in either solution irrespective of temperature, with the exception of EXTEM-AA and EXTEM-CFT in HES haemodilution. Fibrinogen increased FIBTEM-MCF more in the samples diluted with RAc than HES, particularly in presence of factor XIII.
Conclusions
Fibrinogen improved in vitro haemodilution-induced coagulopathy at both 33°C and 37°C, though more efficiently after crystalloid than HES haemodilution. Factor XIII had an additional effect on FIBTEM-MCF, but only after crystalloid dilution.
Keywords
Factor XIIIFibrinogenHemodilutionHypothermiaHemostasisThrombelastography
Introduction
Haemodilution and hypothermia both contribute to coagulopathy and aggravate acute traumatic coagulopathy, which has been recognized as a significant cause of death in patients with traumatic injuries [1]. We therefore studied the efficacy of concentrates of fibrinogen and factor XIII (FXIII) in improving in vitro coagulopathy induced by haemodilution and hypothermia.
Hypothermia impairs coagulation mainly by platelet inhibition [2], whereas haemodilution principally impairs plasma coagulation [3]. In addition to the dilutional effects seen with crystalloids, synthetic colloid solutions impair fibrinogen polymerization and platelet function [3]. Hypothermia and haemodilution induced coagulopathy has been studied extensively with whole blood viscoelastic haemostatic assays (VHA) such as thromboelastometry (ROTEM), but there are few studies of simultaneous hypothermia and haemodilution [4],[5]. In addition, in vitro correction of haemodilution-induced coagulopathy with fibrinogen concentrate has been studied extensively [6],[7], but not during hypothermia. Previous in vitro studies indicate an additional effect of high doses of FXIII together with fibrinogen to correct haemodilution-induced coagulopathy, but this needs to be studied at clinically relevant dosages [7]-[9]. Therefore, the purpose of this study was to evaluate the in vitro effects of mild hypothermia in the context of coagulopathy induced by haemodilution with crystalloid or hydroxyethyl starch solutions; and the effects of fibrinogen concentrate, alone or in combination with factor XIII concentrate using ROTEM, a well-known VHA. The primary hypothesis was that fibrinogen concentrate, with or without factor XIII, reduce dilutional coagulopathy and secondly that hypothermia attenuates their corrective effects.
Material and Methods
Volunteers
Ten healthy individuals (one woman and nine men, age 27–65 years) gave their written informed consent to participate in this study. None of the subjects received any medication in the preceding 7 days and none had a history of coagulopathy. The Regional Ethical Review Board in Lund, Sweden, approved the study (DNR 2008:484).
Sampling
Blood was sampled into citrated plastic vacuum tubes (BD Vacutainer® Coagulation Tube, PET, 0.3 ml 0.109 M citrate). Venepuncture with minimal stasis was conducted, using a 21 Gauge needle, and the first tube was discarded. The samples were incubated at 33°C or 37°C for 30 minutes to ensure temperature equilibration and analysed within 4 hours of sampling.
Hypothermia and haemodilution
A digital thermometer submerged into a fluid-filled reference tube was used to check all blood sample temperatures. The ROTEM instruments were set at either 33°C or 37°C. The blood samples were diluted 2:1 volume by volume with either Ringer's acetated solution (RAc; Fresenius Kabi, Bad Homburg, Germany(G)) or 6% hydroxyethyl starch in saline (HES; MW 130 kDa, substitution ratio 0.42, Venofundin®, B.Braun, Melsungen, G) that is 33% haemodilution.
Fibrinogen and factor XIII
Human fibrinogen concentrate (Riastap®, CSL Behring Marburg, G) and factor XIII (FXIII) concentrate (Fibrogammin®; now registered as Cluvo®, CSL Behring) were dissolved according to the manufacturer's instructions, giving concentrations of 20 mg/ml and 62.5 IU/ml respectively. 120 μl of fibrinogen concentrate or 120 μl of fibrinogen +15 μl of FXIII were added to the respective blood sample, to a total sample volume of 3000 μl. These dosages correspond to 4 g of fibrinogen and 1550 IU of FXIII to a 70-kg man or 55 mg fibrinogen and 22 IU FXIII per kg of body weight. The FXIII dosage followed recommendations from the manufacturer on how to treat haemorrhage in congenital FXIII-deficient patients (10–20 IU/kg of body weight). The 4 g fibrinogen dosage is in line with current guidelines on treatment of massive bleeding.
ROTEM
Rotational thromboelastometry (ROTEM®; Pentapharm, Munich, Germany), a viscoelastic coagulation analysis instrument, was used according to the manufacturer's instructions. Two ROTEM assays, EXTEM and FIBTEM, were used. Coagulation was stimulated with tissue factor in the EXTEM test and the following parameters were recorded: clotting time (CT), clot formation time (CFT), alpha-angle (AA) and maximal clot formation (MCF). The following EXTEM parameters measure the clot velocity: CT shows how long clot initiation takes while CFT and AA reflect the clot amplification and propagation. EXTEM-MCF measures the maximal clot strength and is dependent on platelet count and function, as well as fibrin formation and polymerisation. The FIBTEM test is identical to the EXTEM test except for that cytochalacin D, a platelet inhibitor is added to the test reagent. This results in FIBTEM-MCF representing clot strength dependent on fibrin formation and polymerization alone. The only FIBTEM parameter recorded was FIBTEM-MCF. The last parameter EX-FIBTEM-MCF is a surrogate measure of platelet activity, which is calculated as FIBTEM-MCF subtracted from EXTEM-MCF.
Statistical analysis
For all statistical calculations the software package R, version 3.0.0, was used [10]. Repeated measures were analysed using univariate mixed models, using the package nlme ver. 3.1-109 [11]. Heterogeneous variances were evaluated with weighting. Post-hoc comparisons were made using the Multcomp package ver. 1.2-17 [12] using false discovery rate adjustment of p-values [13]. Data were analysed in two steps. The first step with haemodilution (control, RAc, HES) and two different temperatures (33°C, 37°C) sought to evaluate the potentially different effects of haemodilution with different solutions on normo- and hypothermic blood respectively. The second step used haemodilution with two different solutions (RAc, HES), two temperatures (33°C, 37°C) and the addition of coagulation factors (control, fibrinogen, fibrinogen + FXIII); this analysis evaluated the potential interaction between coagulation factors and the different solutions or different temperatures.
Results
Baseline values
In the undiluted samples, all EXTEM parameters and FIBTEM-MCF were within the normal range at 37°C [14].
Hypothermia and haemodilution
All clot velocity parameters were impaired by hypothermia of 33°C: in both undiluted and diluted blood CT and CFT were prolonged and AA was decreased (Figure
1
). EXTEM-MCF decreased to a small extent during hypothermia, but only during concurrent haemodilution with either solution (Figure
2
). Despite these hypothermic effects, the average values in undiluted samples were still mainly within the normal range at 33°C: a few samples' EXTEM-CFT exceeded the reference range and EXTEM-AA and FIBTEM-MCF were below the reference range in a few of the samples.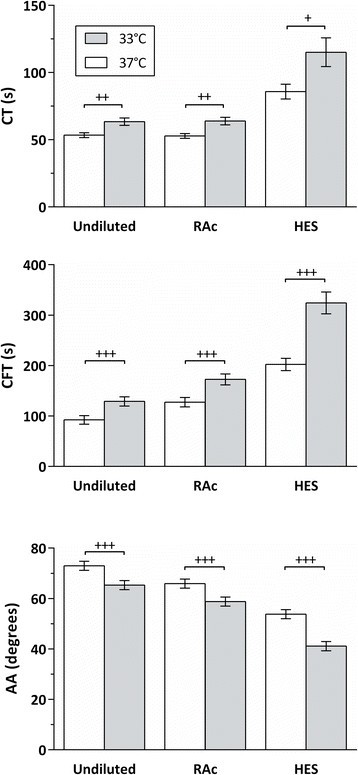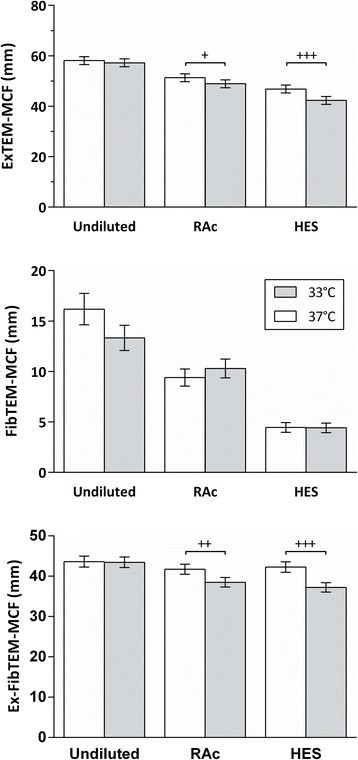 At normothermia, haemodilution with HES significantly impaired all measured parameters, whereas RAc significantly impaired all parameters except CT. In addition, HES impaired ROTEM parameters significantly more than RAc (Figures 1 and 2). Moreover, the combination of hypothermia and HES haemodilution interacted to impair CFT and AA in relation to undiluted samples (CFT: P < 0.001 and AA: P < 0.05), as well as in relation to RAc haemodiluted samples (CFT: P < 0.001 and AA: P < 0.01).
Addition of fibrinogen with or without factor XIII
Addition of fibrinogen concentrate to haemodiluted samples enhanced coagulation in general, except for CFT and AA in HES-haemodiluted samples. With FIBTEM-MCF and EXTEM-AA, there were significant interactions between fibrinogen concentrate and RAc haemodilution as compared to HES haemodilution, that is FIBTEM-MCF and AA were more effectively increased during RAc haemodilution than during HES haemodilution (
P
 < 0.05 at both temperatures with FIBTEM-MCF and
P
 < 0.05 at 37°C with AA) (Figures
3
and
4
).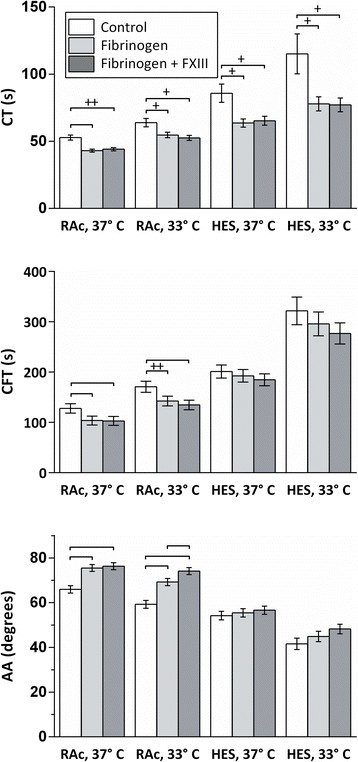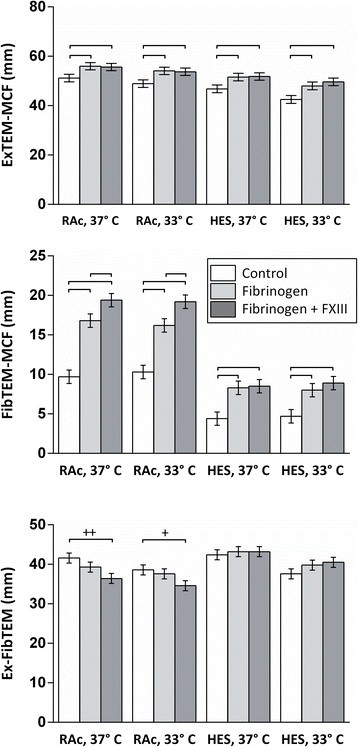 Almost all the parameters were improved to the same degree by fibrinogen combined with FXIII, as by fibrinogen alone. However, FXIII had additional effects to the fibrinogen effects during RAc haemodilution; AA increased more at 33°C and FIBTEM-MCF increased more at both 33° and 37°C after addition of fibrinogen + FXIII as compared with fibrinogen alone (Figures 3 and 4). The better effect of fibrinogen combined with FXIII on FIBTEM-MCF is also demonstrated by significant synergies between RAc haemodilution and fibrinogen + FXIII as compared to control (P < 0.001 at both temperatures) as well as compared to fibrinogen alone (P < 0.05 at both temperatures).
Platelet dependent clot strength (EX-FIBTEM-MCF)
The platelet dependent clot strength (EX-FIBTEM-MCF) was 72% and 76% of the EXTEM-MCF, at 37°C and 33°C respectively. Hypothermia at 33°C and haemodilution in combination decreased EX-FIBTEM-MCF, but hypothermia or haemodilution alone had no effect on EX-FIBTEM-MCF. HES and RAc affected EX-FIBTEM-MCF to the same extent (Figure 2). Addition of fibrinogen or fibrinogen + FXIII did not significantly change EX-FIBTEM-MCF with HES haemodilution, whereas EX-FIBTEM-MCF significantly decreased after adding fibrinogen + FXIII during RAc haemodilution (Figure 4).
Conclusion
In conclusion, our results show that fibrinogen with or without FXIII corrected in vitro dilutional coagulopathy also during hypothermia and that the corrective effects were weaker during haemodilution with HES, as compared to RAc. Factor XIII enhanced the corrective effects of fibrinogen, but only during RAc haemodilution. Finally, HES haemodilution interacted with hypothermia to impair coagulation.
Abbreviations
HES:

Hydroxyethyl starch
RAc:

Ringer's acetate
ROTEM:

Rotational thromboelastometry
CT:

Clotting time
CFT:

Clot formation time
AA:

Alpha angle
MCF:

Maximal clot formation
VHA:

Viscoelastic haemostatic assays
FXIII:

Factor XIII
FOR:

Free oscillation rheometry
Declarations
Funding
Grants from Region Skåne (grant numbers: 194251, 356111) supported this work. CSL Behring supported with drugs for the in vitro study.
Authors' Affiliations
(1)
Faculty of Medicine, Lund University, Lund, Sweden
(2)
Department of Anaesthesia and Intensive Care, Skåne University Hospital Lund, Lund, Sweden
(3)
Department of Paediatric Anaesthesia and Intensive Care, Skåne University Hospital Lund, Lund, Sweden
(4)
Research and Development Centre, Skåne, Skåne University Hospital Lund, Lund, Sweden
Copyright
© Winstedt et al.; licensee BioMed Central Ltd. 2014
This article is published under license to BioMed Central Ltd. This is an Open Access article distributed under the terms of the Creative Commons Attribution License (http://creativecommons.org/licenses/by/4.0), which permits unrestricted use, distribution, and reproduction in any medium, provided the original work is properly credited. The Creative Commons Public Domain Dedication waiver (http://creativecommons.org/publicdomain/zero/1.0/) applies to the data made available in this article, unless otherwise stated.