Current management of massive hemorrhage in trauma
Scandinavian Journal of Trauma, Resuscitation and Emergency Medicine
2012
20:47
Received: 3 April 2012
Accepted: 9 July 2012
Published: 9 July 2012
Abstract
Hemorrhage remains a major cause of potentially preventable deaths. Trauma and massive transfusion are associated with coagulopathy secondary to tissue injury, hypoperfusion, dilution, and consumption of clotting factors and platelets. Concepts of damage control surgery have evolved prioritizing early control of the cause of bleeding by non-definitive means, while hemostatic control resuscitation seeks early control of coagulopathy.
Hemostatic resuscitation provides transfusions with plasma and platelets in addition to red blood cells in an immediate and sustained manner as part of the transfusion protocol for massively bleeding patients. Although early and effective reversal of coagulopathy is documented, the most effective means of preventing coagulopathy of massive transfusion remains debated and randomized controlled studies are lacking.
Viscoelastical whole blood assays, like TEG and ROTEM however appear advantageous for identifying coagulopathy in patients with severe hemorrhage as opposed the conventional coagulation assays.
In our view, patients with uncontrolled bleeding, regardless of it´s cause, should be treated with hemostatic control resuscitation involving early administration of plasma and platelets and earliest possible goal-directed, based on the results of TEG/ROTEM analysis. The aim of the goal-directed therapy should be to maintain a normal hemostatic competence until surgical hemostasis is achieved, as this appears to be associated with reduced mortality.
Keywords
Massive transfusiontraumahemorrhageTEGcoagulopathyFFPRBCplateletsrFVIIafibrinogenPCCantifibrinolytics
Introduction
Hemorrhage requiring massive transfusion remains a major cause of potentially preventable deaths. Trauma and massive transfusion are associated with coagulopathy secondary to tissue injury, hypoperfusion, dilution and consumption of clotting factors and platelets and coagulopathy, together with hypothermia and acidosis, forms a "lethal" triad[1]. Also, in the last 10–15 years there has been some paradigm shift regarding optimal resuscitation of bleeding trauma patients before definitive hemorrhage control is achieved. Aggressive fluid resuscitation increases blood pressure, reverses vasoconstriction, dislodges early formed thrombus, causes dilutional coagulopathy and metabolic acidosis and increases blood loss in experimental studies[2]. Accordingly previous guidelines[3] recommending that fresh frozen plasma (FFP) and platelets (PLT) should be administered only when a whole blood volume or more has been substituted and then according to conventional coagulation analyses is now considered obsolete since this strategy leads to dilutional coagulopathy and compromises hemostatic competence in the most severely bleeding patients[1]. Instead, limiting fluid resuscitation and applying the concept of permissive hypotension with the goal of achieving a palpable radialis pulse in patients has been advocated, whereas in patients with head injury a systolic blood pressure above 110 mmHg is recommended[4–7].
The current transfusion guidelines advocate the concept of hemostatic control resuscitation, i.e., supplementing large transfusions of red blood cells (RBC) with FFP and PLT to critically injured patients in an immediate and sustained manner is proposed[7–9]. The rationale for balanced administration of blood products is that it mimics the composition of circulating blood and, hence, transfusion of RBC, FFP and PLT in a unit-for-unit ratio is likely to both prevent and treat coagulopathy due to massive hemorrhage. This review describes the clinical problems associated with hemorrhage and massive transfusion in trauma.
Coagulopathy in massive hemorrhage
Anticoagulation
Vitamin K antagonists are frequently used by patients with atrial fibrillation or artificial cardiac valves and warfarin has been reported to be associated with about 21,000 visits for bleeding complications per year in the US alone[39], and these data are consistent with reports of major bleeding frequencies for warfarin as high as 10% to 16%[40]. The use of International Normalized Ratio (INR, a plasmatic coagulation analysis) to monitor the degree of anticoagulation by warfarin may in part explain this problem. The lack of adequate hemostatic monitoring is also evident with regards to the newer pharmaceutical agents used for secondary prevention and postoperative thromboprophylaxis such as the direct thrombin inhibitor dabigatran[41], the indirect FXa inhibitors apixaban[42] and rivaroxaban[43]. Furthermore, as for now it is recommended that treatment with these agents do not require hemostatic monitoring[44]. Despite this, however, reports of severe bleedings in patients taking these medications are being reported, including trauma,and since no antidote exists treatment of these patients is a major challenge[45].
Apart from coagulopathy due to iatrogenic heparinization, critically ill patients, including trauma patients, may become endogenously heparinized due to degradation of the endothelial glycocalyx[30, 46], the antiadhesive and anticoagulant carbohydrate-rich surface layer that covers and protects the endothelial cells and contains significant amounts of heparin-like substances[47–53].
Platelet inhibitors
An important cause of excessive bleeding in trauma patients is platelet inhibitors, which an increasing proportion of the population today uses as secondary prevention. Currently, the most important are the platelet ADP receptor inhibitors clopidogrel and lately also the even more potent prasugrel that irreversibly inhibits platelet activation through the platelet ADP receptor and confers more potent platelet inhibition than acetylsalicylic acid
Importantly, the enhanced antiplatelet activity and greater efficacy seen with prasugrel when compared to clopidogrel in clinical trials has been accompanied by increased bleeding risk and the FDA advisory committee issued guidance to physicians about increased risk in low-weight or elderly patients[54].
Monitoring hemostasis
Whole blood viscoelastical assays
Introduction of the cell-based model of hemostasis emphasizes the role of platelets for intact thrombin generation and highlights the importance of the dynamics of thrombin generation influencing the quality and stability of the thrombus formed[
55
]. Consequently, hemostatic assays performed on plasma such as activated partial thromboplastin time (APTT) and prothrombin time (PT) are of limited value[
56
] and they do not correlate with clinically relevant coagulopathies[
57
,
58
]. Instead, employing a whole blood assay, such as viscoelastic hemostatic assays (VHA) like TEG/ROTEM that records the viscoelastic changes during clot formation and subsequent lysis is preferable. The TEG reports (Figure
1
): R (reaction time), angle (α), the maximum amplitude (MA), the maximal clot strength; and clot lysis (Ly)[
29
,
59
–
61
]. Typical TEG profiles observed in trauma patients are normal, hypercoagulable, hypocoagulable and hyperfibrinolytic profiles (Figure
2
), and in actively bleeding patients these are treated according to an algorithm (Table
1
).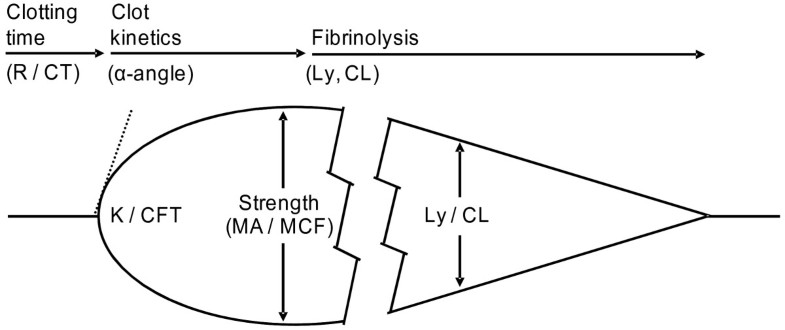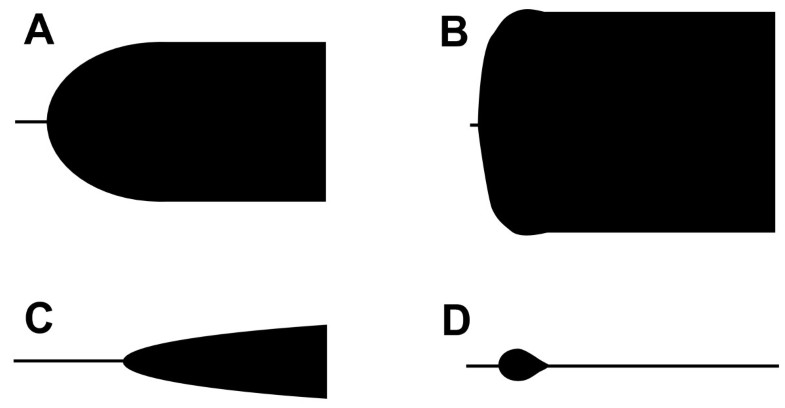 Table 1
Recommended TEG algorithm for goal-directed therapy of bleeding patients in the Capital Region of Denmark
| TEG parameter* | Coagulopathy | Intervention |
| --- | --- | --- |
| R >10 min | Coagulation factors ↓ | FFP 10–20 ml/kg (if FFP is without clinical efficacy, consider cryoprecipitate 3–5 ml/kg) |
| Angle <52 ° | Hypofibrinogenemia? | → Functional Fibrinogen (FF) analysis |
| MA <49 mm and | | |
| MA FF <14 mm | Fibrinogen ↓ | FFP 20–30 ml/kg / |
| Fibrinogen konc. 25–50 mg/kg / | | |
| Cryoprecipitate 5 ml/kg | | |
| MA <49 mm and | | |
| MA FF >14 mm | Platelets ↓ | Platelets 5–10 ml/kg |
| Ly30 >8% | Primary hyperfibrinolysis | Tranexamic acid 1–2 g IV (adults) |
| Children 10–20 mg/kg IV | | |
| Ly30 >8% and | | |
| Angle and/or MA ↑↑ | Reactive hyperfibrinolysis | Tranexamic acid contraindicated |
| Difference in R >2 min between st-TEG and hep-TEG | Heparinization | Protamine sulphate or FFP 20–30 ml/kg |
Reduced clot stability correlates with clinical bleeding conditions as demonstrated by Plotkin et al.[62] who, in patients with a penetrating trauma, reported TEG to be an accurate indicator of the blood product requirements. Furthermore, TEG is the gold standard for identifying hypercoagulability[63–65] and hyperfibrinolysis[35–38, 65, 66], the latter a significant cause of bleeding in patients with major trauma[29, 35–38, 59–61, 66]. The use of VHA in trauma is now recommended by recent guidelines[67, 68] and text books[69] and its use in the military field is extensive and many Level 1 trauma centers consider use of VHA to monitor and guide hemostatic therapy as routine.
Whole blood platelet function analyzers
Different assays evaluating the degree of platelet inhibition secondary to platelet inhibitors exists. Light transmission aggregometry (LTA), previously considered the "gold standard" for investigation of platelet aggregation[70], unfortunately relies on artificially manufactured platelet rich plasma suspensions, which do not reflect in vivo conditions and consequently platelet function assays performed on whole blood are today favored. Examples of whole blood platelet function assays are PFA100 (Siemens, Tarrytown, USA), VerifyNow (Accumetrics, San Diego, USA) and Multiplate (Verum Diagnostica GmbH, Munich, Germany), which all have been reported to be able to identify clinically relevant platelet inhibition secondary to pharmacological platelet inhibitors.
Goal-directed hemostatic resuscitation based on VHA
Goal-directed treatment with blood products and antifibrinolytic pharmacological agents based on the result of the whole blood viscoelastic hemostatic assays (VHA), together with the clinical presentation, was introduced for more than 25 years ago in patients undergoing liver transplantation and cardiac surgery and there are validated algorithms for how coagulopathy is identified and treated in patients with ongoing bleeding, based on VHA[71]. More than 25 studies encompassing more than 4,500 patients have evaluated VHA vs. conventional coagulation assays on bleeding and transfusion requirements in patients undergoing cardiac, liver, vascular, or trauma surgery and in patients requiring massive transfusion. These studies demonstrate the superiority of VHA in predicting the need for blood transfusion, and the VHA-based algorithm reduces the transfusion requirements and the need for re-do surgery in contrast to treatment based on conventional coagulation assays[29] and this was further corroborated in a recent Cochrane review[72].
We found that implementation of goal-directed hemostatic resuscitation of massively bleeding patients, including trauma, based on the VHA reduced mortality by approximately 30% in patients requiring more than 10 RBC in the first 24 hours[71]. Systematic use of VHA to monitor and guide transfusion therapy is furthermore endorsed by several recent international transfusion guidelines and teaching books[68, 69].
Administration of blood products
Conclusions
Viscoelastic whole blood assays, such as TEG and ROTEM are advantageous for identifying coagulopathy, and guide ongoing transfusion therapy. From the result of these assays, implementation of a hemostatic control resuscitation strategy to massively bleeding patients seems both reasonable and lifesaving although data from prospective randomized controlled trials are lacking. Until definite proof from such trials is available, retrospective data support a shift in transfusion medicine in regard to early and aggressive administration of plasma and platelets.
Author contribution
PJ, JS and SRO contributed to the conception and design of the manuscript, literature search, and writing of the manuscript. All authors read and approved the final manuscript.
Author details
1Section for Transfusion Medicine, Capital Region Blood Bank, Rigshospitalet University of Copenhagen, Blegdamsvej 9, DK-2100 Copenhagen, Denmark.2Department of Anesthesiology, HOC, Rigshospitalet, University of Copenhagen, Blegdamsvej 9, DK-2100 Copenhagen, Denmark. 3Department of Surgery, Center for Translational Injury Research (CeTIR),, University of Texas Medical School at Houston, Houston, TX, USA.
Authors' Affiliations
(1)
Section for Transfusion Medicine, Capital Region Blood Bank, Rigshospitalet University of Copenhagen, Copenhagen, Denmark
(2)
Department of Anesthesiology, HOC, Rigshospitalet, University of Copenhagen, Copenhagen, Denmark
(3)
Department of Surgery, Center for Translational Injury Research (CeTIR),, University of Texas Medical School at Houston, Houston, USA
Copyright
© Johansson et al.; licensee BioMed Central Ltd. 2012
This article is published under license to BioMed Central Ltd. This is an Open Access article distributed under the terms of the Creative Commons Attribution License (http://creativecommons.org/licenses/by/2.0), which permits unrestricted use, distribution, and reproduction in any medium, provided the original work is properly cited.