We're sorry, something doesn't seem to be working properly.
Please try refreshing the page. If that doesn't work, please contact us so we can address the problem.
Treatments for blunt chest trauma and their impact on patient outcomes and health service delivery
Scandinavian Journal of Trauma, Resuscitation and Emergency Medicine
2015
23:17
Received: 13 October 2014
Accepted: 7 January 2015
Published: 8 February 2015
Abstract
Blunt chest trauma is associated with a high risk of morbidity and mortality. Complications in blunt chest trauma develop secondary to rib fractures as a consequence of pain and inadequate ventilation. This literature review aimed to examine clinical interventions in rib fractures and their impact on patient and hospital outcomes. A systematic search strategy, using a structured clinical question and defined search terms, was performed in MEDLINE, EMBASE, CINAHL and the Cochrane Library. The search was limited to studies of adult humans from 1990-March 2014 and yielded 977 articles, which were screened against inclusion/exclusion criteria. A hand search was then performed of the articles that met the eligibility criteria, 40 articles were included in this review. Each article was assessed using a quantitative critiquing guideline. From these articles, interventions were categorised into four main groups: analgesia, surgical fixation, clinical protocols and other interventions. Surgical fixation was effective in patients with flail chest at improving patient outcomes. Epidural analgesia, compared to both patient controlled analgesia and intravenous narcotics in patients with three or more rib fractures improved both hospital and patient outcomes, including pain relief and pulmonary function. Clinical pathways improve outcomes in patients ≥ 65 with rib fractures. The majority of reviewed papers recommended a multi-disciplinary approach including allied health (chest physiotherapy and nutritionist input), nursing, medical (analgesic review) and surgical intervention (stabilisation of flail chest). However there was a paucity of evidence describing methods to implement and evaluate such multidisciplinary interventions. Isolated interventions can be effective in improving patient and health service outcomes for patients with blunt chest injuries, however the literature recommends implementing strategies such as clinical pathways to improve the care and outcomes of thesetre patients. The implementation of evidence-practice interventions in this area is scarce, and evaluation of interventions scarcer still.
Keywords
Rib fracturesManagement interventionsPatient and health outcomes
Introduction
Blunt chest trauma is associated with a high risk of morbidity and mortality [1]. Rib fractures constitute a major part of blunt chest trauma and each additional rib fracture is associated with an increasing likelihood of developing complications [2,3]. Each additional rib fracture in the elderly population increases the odds of mortality by 19% and of developing pneumonia by 27% [3,4]. Respiratory complications develop with rib fractures as a consequence of splinting of the thorax from pain and mechanical instability resulting in inadequate ventilation [5]. Even an isolated rib fracture is associated with significant consequences, particularly in the older population [6,7]. This causes decreased lung volumes, atelectasis, and may progress to pneumonia, respiratory failure, need for prolonged ventilation and possible death [8]. Moreover reduced mobility in blunt chest trauma increases the likelihood of venous thrombosis [9,10].
Management of blunt chest trauma focuses on a combination of effective analgesia, surgical fixation, chest physiotherapy, respiratory care and early mobilisation [11,12]. If rib fracture pain in blunt chest trauma is not treated in a timely manner, complications may result in death, long-term pulmonary impairment, increased hospital length of stay (LOS) and increased use of health-care resources [1]. Inadequate or delayed pain relief is well known to cause people to eat less, sleep poorly, undergo psychological stress, experience restricted movement, and be unable to participate in normal activities including work [13]. Although literature reviews exist for some specific interventions such as surgical rib fixation and epidural analgesia, there are no published reviews evaluating all potential treatment options for blunt chest trauma. The purpose of this review is to examine the literature around interventions in blunt chest trauma to prevent complications and death.
Review
Research question
To review the treatments for blunt chest trauma and their impact on patient and hospital outcomes. Each term is defined, using the population, intervention, comparison, outcome (PICO) framework [
14
], in Table
1
.
Table 1
PICO research terms [14]
| Population | Adult - blunt chest trauma | Sternal fractures, rib fractures, blunt chest injury, thoracic injury, |
| --- | --- | --- |
| Intervention | Multidisciplinary intervention | Models of care, management intervention, care practices, care protocols |
| Comparison | Other intervention | |
| Outcome | Patient and health outcomes | Mortality, pneumonia, pneumothorax, haemothorax, hospital length of stay, ICU stay, DVT, PE, costings, treatment outcome |
Methods
An integrative review was conducted, which enabled the inclusion of a diverse range of study designs. The review process involved a search of the current literature, evaluation and categorisation of the data, and analysis of the groups [15]. A scoping search was conducted in the Medline Database to determine MESH terms appropriate to the research question. A search was conducted of the Cochrane, Medline, EMBASE and CINAHL databases in March 2014 using search terms including "thoracic injuries", "rib fractures", "mortality", "pneumonia", "outcome assessment" and "length of stay" [see Additional file 1: Tables S2 and S3] includes a full list of search terms and the databases searched. The initial search was performed without language restrictions or limitations to research design. The initial search was limited to studies of humans, adults and from 1990 onwards. This time-frame was chosen due to changes in interventions, including ventilation and surgical fixation based on a better understanding of blunt chest injury pathophysiology [16]. The initial search was limited to blunt chest trauma and did not focus on specific individual injury types. Patient outcomes included complications such as pneumonia, the duration of mechanical ventilation, pain level and mortality. Health service delivery referred to the access to interventions and the provision of multidisciplinary care, delivery outcomes included cost and hospital length of stay.
The search yielded 1107 articles, of which 130 were duplicates. The remaining 977 titles and abstracts were inspected to determine if they fulfilled our preliminary inclusion criteria: (1) original research, (2) blunt chest trauma, including articles that enrolled a mixture of blunt and penetrating chest trauma, or polytrauma, (3) any intervention for the treatment of blunt chest trauma, (4) included a comparator, (5) contained measured outcomes, and (6) the abstract was in English. 65 potentially relevant articles were identified. The full text articles were then obtained and reviewed by each author to ensure all inclusion and exclusion criteria were met. One article was unable to be retrieved, as a full manuscript had not been published.
Articles were excluded if patient outcomes were primarily dependent on the speed and accessibility of advanced trauma surgical services, rather than on interventions aimed at preventing the complications of pain, immobility and respiratory impairment. For example articles evaluating patients with catastrophic injury requiring emergency thoracotomy were excluded due to the high rates of extrathoracic injuries, and the low baseline survival rates [
17
,
18
]. 32 articles remained after review of the full text for eligibility criteria. A hand search was conducted of the reference lists of these articles and eight further articles were included. The screening process is highlighted in Figure
1
[
19
]. The 40 remaining articles were analysed and are summarised [see Additional file
2
: Table S4]. Each article was assessed using a quantitative critiquing guideline [
20
] to assess the quality of the study. Secondly, using the US Preventive Services Task Force guidelines, the level of evidence was rated as good, fair or poor [
21
]. Evidence is rated based on parameters for evaluating the internal validity of the different study designs. A good study meets all criteria for that study design, a fair study does not meet all criteria but it has no fatal flaw that invalidates its results, and a poor study contains a fatal flaw [
21
]. Information extracted included level of evidence, patient group, outcomes, findings and limitations.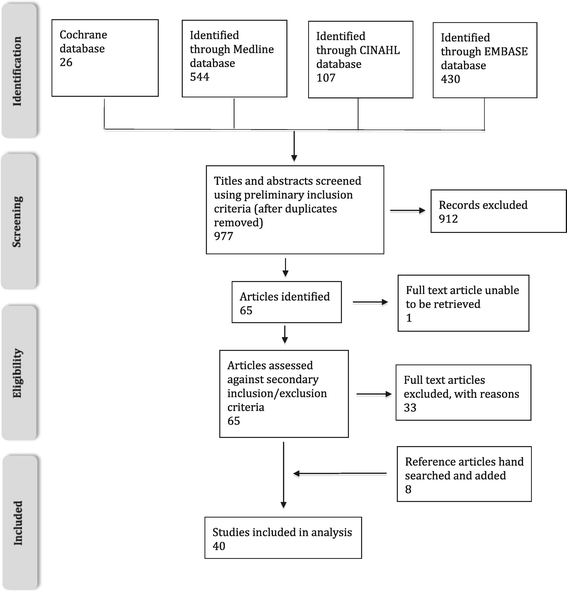 Results
The 40 reviewed articles originated from 12 different countries with varying health systems, including USA, Germany, Australia, Italy and Egypt. Research methods ranged from case series to randomised controlled trials. Using the critiquing guidelines for level of evidence, 7/40 articles were assessed as poor, 20/40 as fair and 13/40 as good.
The treatments for blunt chest trauma identified were grouped into four main categories: surgical stabilisation of rib fractures, analgesia for effective pain relief, the implementation of clinical protocols and multidisciplinary interventions, and other interventions, including ventilation and video assisted thoracoscopy surgery. The main outcome measures reported were ventilator dependent days, cost, complications including pneumonia, mortality, pain scores and hospital and intensive care unit length of stay (ICU-LOS). Surgical fixation was limited to patients with flail chest and the majority of analgesic modalities were in patients with three or more rib fractures following blunt chest injury. Multidisciplinary interventions (clinical pathways) were evaluated in patients 45 years and older with four or more rib fractures or patients 65 years and older with three or more rib fractures.
Discussion
Blunt thoracic trauma has a significant impact on morbidity and mortality when left untreated [
1
]. Many different treatment modalities are used to reduce the complications associated with rib fractures, however, their efficacy is often unclear. This literature review provides a comprehensive examination of the different treatment modalities involved and their individual and relative effectiveness. The key findings of this review are highlighted in Figure
2
. The results show that analgesia, particularly in the form of epidurals, surgical fixation and ventilation are single modal interventions effective at improving outcomes. However, difficulties exist in ensuring that patients receive a full spectrum of care, hence clinical pathways have been developed in order to organise this care for the patient. The findings of this review are limited by the quality of evidence. Only 10 of the 40 articles were prospective randomised trials. Most trials were limited by small sample size, and by selection bias in retrospective studies. A summary of each treatment option and the strength of the surrounding literature is illustrated [see Additional file
3
: Table S5].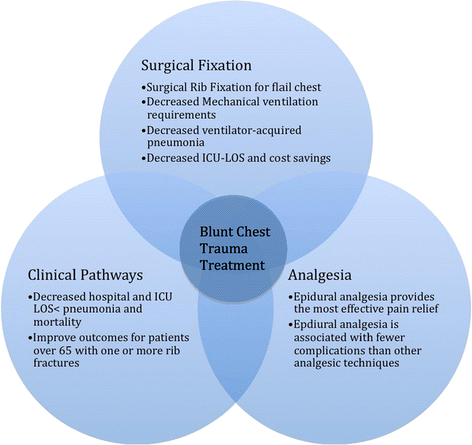 Conclusion
A broad amount of literature exists surrounding interventions in blunt chest trauma. The three treatment modalities that have significant evidence for their benefits are surgical rib fixation, epidural analgesia and trans-disciplinary clinical pathways. Collectively, these improve hospital outcomes including ICU and hospital LOS as well as patient outcomes including mortality and morbidity in patients with blunt chest trauma. Systems that address each component of multidisciplinary care and ensure their implementation would benefit patient and hospital outcomes. Further evidence is required in determining the effectiveness of combining therapies, including mobilisation, respiratory care and pain management.
Abbreviations
ICU:

Intensive care unit
LOS:

Length of stay
IV:

Intravenous
ISS:

Injury severity score
SRF:

Surgical rib fixation
PCA:

Patient controlled analgesia
PE:

Pulmonary embolism
CPAP:

Continuous positive airway pressure
VATS:

Video assisted thoracoscopic surgery
Authors' Affiliations
(1)
Trauma Department, St George Hospital, Kogarah, Australia
(2)
Sydney Nursing School, University of Sydney, Sydney, Australia
(3)
Faculty of Medicine, University of New South Wales, Kensington, Australia
(4)
Department of Emergency, St George Hospital, Kogarah, Australia
Copyright
© Unsworth et al.; licensee BioMed Central. 2015
This is an Open Access article distributed under the terms of the Creative Commons Attribution License (http://creativecommons.org/licenses/by/4.0), which permits unrestricted use, distribution, and reproduction in any medium, provided the original work is properly credited. The Creative Commons Public Domain Dedication waiver (http://creativecommons.org/publicdomain/zero/1.0/) applies to the data made available in this article, unless otherwise stated.