Thrombelastography (TEG®): practical considerations on its clinical use in trauma resuscitation
Luis Teodoro da Luz

1,

Bartolomeu Nascimento

2 and

Sandro Rizoli

3

Email author
Scandinavian Journal of Trauma, Resuscitation and Emergency Medicine
2013
21:29
Received: 17 January 2013
Accepted: 7 April 2013
Published: 16 April 2013
Abstract
Background
Thrombelastography is a laboratorial test that measures viscoelastic changes of the entire clotting process. There is growing interest in its clinical use in trauma resuscitation, particularly for managing acute coagulopathy of trauma and assisting decision making concerning transfusion. This review focuses on the clinical use of thrombelastography in trauma, with practical points to consider on its use in civilian and military settings.
Methods
A search in the literature using the terms "thrombelastography AND trauma" was performed in PUBMED database. We focused the review on the main clinical aspects of this viscoelastic method in diagnosing and treating patients with acute coagulopathy of trauma during initial resuscitation.
Results
Thrombelastography is not a substitute for conventional laboratorial tests such as INR and aPTT but offers additional information and may guide blood transfusion. Thrombelastography can be used as a point of care test but requires multiple daily calibrations, should be performed by trained personnel and its technique requires standardization. While useful partial results may be available in minutes, the whole test may take as long as other conventional tests. The most important data provided by thrombelastography are clot strength and fibrinolysis. Clot strength measure can establish whether the bleeding is due to coagulopathy or not, and is the key information in thrombelastography-based transfusion algorithms. Thrombelastography is among the few tests that diagnose and quantify fibrinolysis and thus guide the use of anti-fibrinolytic drugs and blood products such as cryoprecipitate and fibrinogen concentrate. It may also diagnose platelet dysfunction and hypercoagulability and potentially prevent inappropriate transfusions of hemostatic blood products to non-coagulopathic patients.
Conclusions
Thrombelastography has characteristics of an ideal coagulation test for use in early trauma resuscitation. It has limitations, but may prove useful as an additional test. Future studies should evaluate its potential to guide blood transfusion and the understanding of the mechanisms of trauma coagulopathy.
Keywords
ThrombelastographyTEG®FibrinolysisTrauma coagulopathy
Review
Two major and recent advances in trauma are the resuscitation of massive bleeding patients with reconstituted whole blood (transfusion of plasma, platelet and red blood cell at a 1:1:1 ratio) and an increasing understanding of the pathophysiology of the acute coagulopathies of trauma [1, 2]. These advances have been accompanied by an unprecedented interest on the potential clinical applications of thrombelastography (TEG®), a viscoelastic laboratory method of hemostasis testing for both civilian and military trauma care. While the number and quality of the studies on TEG® in trauma is gradually increasing, many of its potential applications remain unclear to practicing surgeons, who characteristically are unfamiliar with laboratory technologies. This review focuses on the potential practical clinical application of thrombelastography for both civilian and military trauma settings.
Brief overview – test methodology
Thrombelastography or TEG
®
is based on the principle that the end result of the hemostatic process is a clot and its physical properties determine the patients' hemostatic status. This test measures the physical properties of the clot in whole blood via a pin suspended in a cup from a torsion wire connected with a mechanical–electrical transducer (Figure
1
). As the blood sample clots, the changes in rotation of the pin are converted into electrical signals that a computer uses to create graphical and numerical output [
3
]. A representative signature waveform is shown in Figure
2
while common abnormalities are presented in Figure
3
. There are in fact two commercially available analogous systems, the thrombelastography (TEG
®
, Hemoscope Corporation, Niles, IL) and the rotational thromboelastometry (ROTEM®; Tem International GmbH, Munich, Germany). Both use the technique described by Hartert [
4
] with slightly different nomenclatures [
5
] and some technical differences. While differences in diagnostic nomenclature for identical parameters exist between the two systems, the primary hardware difference between the systems is that TEG
®
operates by moving a cup in a limited arc (±4°45
′
every 5s) filled with sample that engages a pin/wire transduction system as clot formation occurs, whereas the ROTEM® has an immobile cup wherein the pin/wire transduction system slowly oscillates (±4°45
′
every 6s) [
5
]. Because the authors' experience is with thrombelastography [
3
], this manuscript will focus on this system.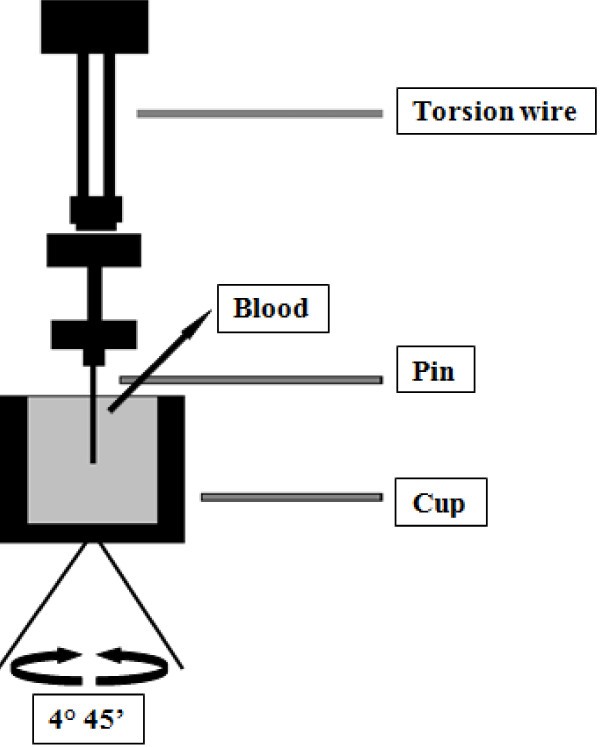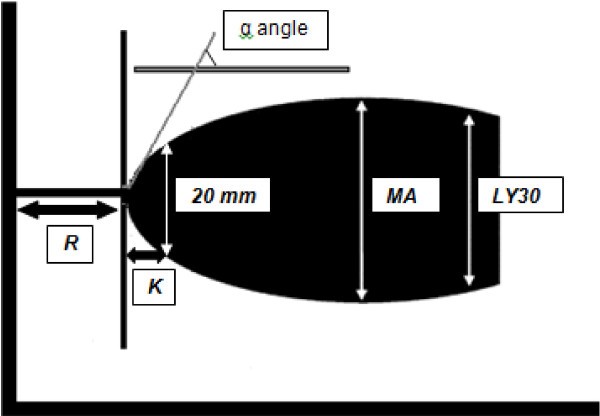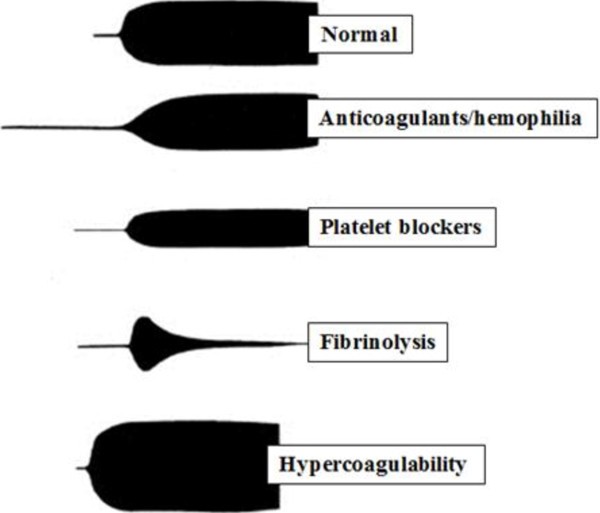 Practical considerations about TEG®
TEG®-Based transfusion algorithm for trauma
Thrombelastography has been criticized for not being subjected to the same evaluation processes as many conventional lab tests. It has however, been shown to reduce the use of blood products in both cardiac surgery [52, 53] and liver transplantation [15], thus it is plausible that it can do the same for trauma. There are currently 2 options for the management of massive bleedings in trauma. Damage control resuscitation proposes empirical resuscitation with aggressive transfusion of red blood cells, fresh plasma and platelets. The "classical" resuscitation proposes transfusion based on conventional laboratory tests. Possibly most massively bleeding trauma patients are resuscitated nowadays by a combination of the two options. The possibility that laboratorial tests such as TEG® could guide blood transfusion is attractive and a few TEG®-based transfusion algorithms for trauma have recently been proposed [2, 6, 35, 36, 54, 55]. However, the processes used to create these algorithms are missing, and no prospective validation or comparisons to other algorithms have been reported. The additional difficulty in using the proposed algorithms is that the threshold TEG® values that justify transfusion are unknown. In a similar way that a hemoglobin level of 105 g/L despite being abnormal would not support blood transfusion in most instances; it becomes difficult to justify transfusing platelets or plasma simply because the MA value is 53 when the normal is ≥54 as in the algorithms. Another criticism to TEG®-based algorithms is its mono-analysis with a single activator (Kaolin) compared to algorithms based on multiple assays (i.e. ROTEM®) with improved diagnostic efficacy [56]. Harr [33] recently pointed out that TEG inability to differentiate between fibrinogen and platelet contribution to clot firmness resulted in two TEG®-based algorithms proposing different interventions to treat the same problem (low clot strength).
Conclusions
Hemostatic interventions such as blood transfusions may be life saving for a coagulopathic trauma patient. In contrast, for a patient with mechanical source of bleeding and hypercoagulable, the same interventions may delay bleeding control and increase both morbidity and mortality. TEG® offers the possibility of quickly identifying whether the bleeding is due to incompetent clotting (coagulopathy), excessive clot lysis (hyperfibrinolysis), both or neither one. This information can then be used to guide appropriate use of blood, blood products and other interventions such as antifibrinolytics. It may also be used to prevent inappropriate treatments.
TEG® has many of the characteristics of an ideal coagulation test for trauma resuscitation [5]. It however, is one more option for diagnosis and requires further work particularly regarding standardization before its potential can be fully evaluated across different institutions [3]. Future studies should focus on the use of TEG® in guiding blood transfusion as well as advancing the knowledge of the mechanisms of early trauma coagulopathies.
Declarations
Funding
Dr. Bartolomeu Nascimento is the 2010–11 National Blood Foundation Grant recipient for the conduct of research related to coagulopathy in trauma.
Authors' Affiliations
(1)
Department of Critical Care Medicine, Sunnybrook Health Science Centre, University of Toronto, Toronto, Canada
(2)
Department of Surgery, Sunnybrook Health Sciences Centre, University of Toronto, Toronto, Canada
(3)
Surgery and Critical Care Medicine, Departments of Surgery and Critical Care Medicine, St Michael's Hospital, University of Toronto, Toronto, Canada
Copyright
© da Luz et al.; licensee BioMed Central Ltd. 2013
This article is published under license to BioMed Central Ltd. This is an Open Access article distributed under the terms of the Creative Commons Attribution License (http://creativecommons.org/licenses/by/2.0), which permits unrestricted use, distribution, and reproduction in any medium, provided the original work is properly cited.