Survival following a vertical free fall from 300 feet: The crucial role of body position to impact surface
Scandinavian Journal of Trauma, Resuscitation and Emergency Medicine
2011
19:63
Received: 22 September 2011
Accepted: 25 October 2011
Published: 25 October 2011
Abstract
We report the case of a 28-year old rock climber who survived an "unsurvivable" injury consisting of a vertical free fall from 300 feet onto a solid rock surface. The trauma mechanism and injury kinetics are analyzed, with a particular focus on the relevance of body positioning to ground surface at the time of impact. The role of early patient transfer to a level 1 trauma center, and "damage control" management protocols for avoiding delayed morbidity and mortality in this critically injured patient are discussed.
Keywords
Damage Control
Mild Traumatic Brain Injury
Femur Shaft Fracture
Posterior Spinal Fusion
Pelvic Ring Injury
Introduction
Vertical deceleration injuries represent a significant cause of preventable deaths and long-term morbidity in survivors [1]. The amount of energy absorbed by the falling body is dependent on the fall height and the characteristics of the contact surface. For example, a fall onto concrete results in an instantaneous loss of speed, whereas falling onto a soft surface will allow for a more gradual deceleration over time [2]. In addition, the position of the body relative to the impact surface represents an important determinant of injury severity. The American College of Surgeons' Committee on Trauma (ACS-COT) defines a critical threshold for a fall height in adults as > 20 feet (6 meters), as part of the field triage decision scheme for transport to a designated trauma center [3]. A retrospective analysis of 101 patients who survived vertical deceleration injuries revealed an average fall height of 23 feet and 7 inches (7.2 meters), confirming the notion that survivable injuries occur below the critical threshold of a falling height around 20-25 feet [1]. A more recent study on 287 vertical fall victims revealed that falls from height of 8 stories (i.e. around 90-100 feet) and higher, are associated with a 100% mortality [4]. Thus, a vertical falling height of more than 100 feet is generally considered to constitute a "non-survivable" injury.
The present case report describes the rare survival of a 28-year old rock climber who survived a free fall from 300 feet onto a solid rock surface. This report emphasizes the crucial relevance of body positioning at the time of impact, and the importance of standardized institutional "damage control" management protocols for survival.
Case report
A 28-year old woman was free climbing with her boyfriend near Gunnison, Colorado. Both were wearing a helmet and a harness for safety. The girl had 20 years of experience of rock climbing, being taught early tricks by her father at the age of 8 years. The ascent consisted of three pitches of 90-100 feet (ca. 30 m) each. The climbing distance was defined by the climbing rope which had been fixed at a defined length. The girl took the lead on the third pitch, to a total height of 300 feet (ca. 90 m). After securing the anchor at that height, the rope - which was lacking a security knot - slid through her harness. She then fell a total of 300 feet, with a first impact at 200 feet onto a flat rock surface, and a further fall for about 100 feet. Based on this falling height, the velocity at the time of impact is estimated around 75-80 mph. Her boyfriend witnessed the entire fall, climbed back down and provided first aid at the scene. The patient was awake and moaning, but not responsive to verbal or painful stimuli. She was intubated at the scene and transported to a local level IV trauma center, where she was resuscitated and transfused with 4 units of packed red blood cells (PRBC). Due to ongoing hypotension and transfusion requirements, a decision was made for transfer to our regional level 1 trauma center. On arrival, the patient was intubated and sedated. She was hypotensive, with systolic pressures in the 80s. She was successfully resuscitated with crystalloids and blood products, using a standardized institutional massive transfusion protocol with point-of-care thrombelastography-guided resuscitation [5, 6]. The patient was managed according to the ATLS guidelines for initial assessment and management, and by our institutional "damage control" protocols, including the initial spanning external fixation of femur shaft fractures [7, 8] and a proactive "spine damage control" approach [9].
The patient sustained the following combination of injuries:
On day 2, she was taken back to the operating room for stabilization of the pelvic ring injury using bilateral "triangular osteosynthesis" with lumbo-pelvic fixation from L4 to the ilium, and placement of bilateral 7.3 mm cannulated sacro-iliac screws through a safe surgical corridor [10]. On day 3, an IVC filter was placed due to the high risk constellation for a thromboembolic complication.
Discussion
This is the first case report, to our knowledge, which documents survival from a free vertical fall of 300 feet onto a hard surface. The anecdotal threshold for sustaining critical injuries from a vertical fall has been defined by the American College of Surgeons' Committee on Trauma (ACS-COT) at >20 feet (6 meters) [3]. This threshold is corroborated by the published literature on survivors from accidental and suicidal free falls [1]. In general, a falling height of >100 feet is considered a "non-survivable" injury [4]. The height of 300 feet is ascertained by the fact that in "lead climbing", the climbing rope is fixed at a defined length, corresponding to 150 feet in the present case. The patient's boyfriend took the lead on the first pitch of 150 feet, where after she took over the lead on the next 150 feet. After securing the anchor at 300 feet height, the rope slid through her harness and she sustained an undamped vertical free fall onto a flat rock surface.
Most falls from rock climbing result in simple sprains which affect ankle, elbow, and shoulder joints [
14
]. A retrospective analysis revealed that fractures of the spine and lower limbs represent the most frequent injury pattern in survivors from vertical falls from a height [
1
]. These findings concur with the notion presented in this case report, that a fall on both feet represents the "ideal" body to impact surface position with regard to survival from vertical falls. In contrast, brain injuries and cervical spine injuries resulting from a fall on the head represent the main cause for lethal outcomes after falls [
15
]. The patient's specific injury pattern is suggestive of a trauma mechanism by which the patient landed on both feet first, followed by a deceleration/twisting mechanism to her right femur and the thoracic and lumbar spine, ending in a fall on the back which induced the final deceleration forces leading to the intra-abdominal and thoracic injuries. As outlined by the presumed trauma mechanism depicted in the diagram in Figure
9
, the patient landed feet first, leading to an energy transfer over a longer deceleration area from feet (
panel A
) to femur and pelvis (
panel B
) to a rotational flexion/distraction mechanism of the thoracic spine (
panel C
), followed by a fall on the back (
panel D
), which is associated with a distribution of the deceleration force over a larger surface area. Since the soft tissues and viscera decelerate slower than the skeleton, the final impact likely led to the chest trauma and intra-abdominal injuries to the parenchymal organs (
panel D
). This patient would likely not have survived the same injury mechanism, if she had landed head and neck first.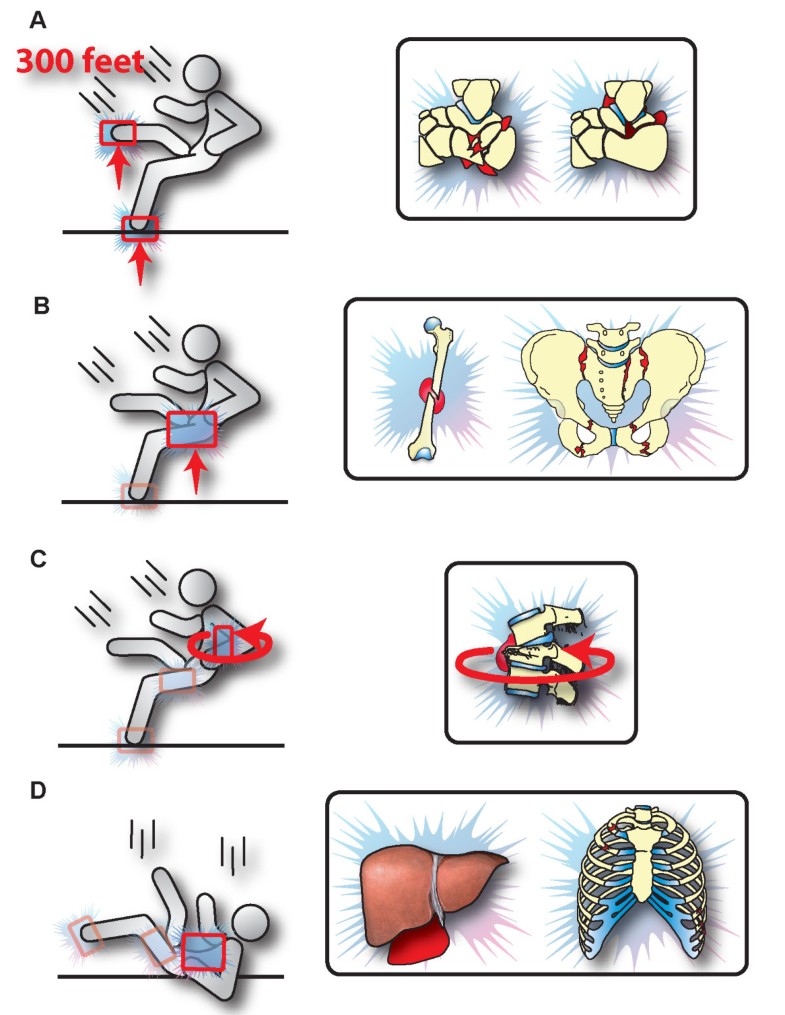 Furthermore, the rapid intubation, early resuscitation, and timely transfer to a qualified level 1 trauma center likely contributed to this patient's survival. It is striking to note that, despite the critical overall injury pattern, the patient did not sustain significant complications which may have been expected as the sequelae of the traumatic impact, including posttraumatic/postoperative infections, and the development of remote organ insults, including acute respiratory distress syndrome (ARDS) and multiple organ failure, which represent the main cause of late deaths in patients who survive the initial injury [16–18].
Likely, the application of standardized resuscitation strategies, in conjunction with thrombelastography-guided administration of blood products, and the limited exposure to the interventional burden by "damage control" strategies applied in the first few days after trauma, contributed to the survival of this patient [5–7, 9, 11, 19, 20].
The impact of falling height, quality of impact surface, and the position of the body to the impact surface on injury severity and outcome require further investigation in ex-vivo experimental and biomechanical studies.
Written informed consent
Written informed consent for publication of this case report and of all radiological images and pictures was obtained from the patient by the senior author. She agreed to publish the case report including all figures shown in this paper. Written consent by the patient is available to the journal's Editor-in-Chief upon request.
Authors' Affiliations
(1)
Department of Orthopaedic Surgery, Denver Health Medical Center, University of Colorado Denver, School of Medicine, Denver, USA
(2)
Department of Surgery, Denver Health Medical Center, University of Colorado Denver, School of Medicine, Denver, USA
Copyright
© Weckbach et al; licensee BioMed Central Ltd. 2011
This article is published under license to BioMed Central Ltd. This is an Open Access article distributed under the terms of the Creative Commons Attribution License (http://creativecommons.org/licenses/by/2.0), which permits unrestricted use, distribution, and reproduction in any medium, provided the original work is properly cited.