Necrotizing Fasciitis of the lower extremity: a case report and current concept of diagnosis and management
Scandinavian Journal of Trauma, Resuscitation and Emergency Medicine
2009
17:28
Received: 03 January 2009
Accepted: 15 June 2009
Published: 15 June 2009
Abstract
Necrotizing fasciitis is a severe soft tissue infection characterized by rapidly progressing necrosis, involving subcutaneous tissues. This rare condition carries high mortality rate and require prompt diagnosis and urgent treatment with radical debridement and antibiotics.
We describe a case of 21-year old man who presented with the history of trivial injury to the knee. Initially he was admitted and treated for septic arthritis but later was diagnosed as necrotizing fasciitis which was successfully treated with no ill effects what so ever from this devastating condition.
This rare condition has been reported in literature but still early diagnosis, which is a key for successful treatment, remains a challenge.
Keywords
Septic Arthritis
Fasciitis
Soft Tissue Infection
Necrotizing Fasciitis
Surgical Debridement
Background
Necrotizing fasciitis(NF) is a severe soft tissue infection characterized by rapidly progressing necrosis involving mainly the fascia and subcutaneous tissues, but can also extend to involve muscles and skin. This rare, life-threatening condition has been recognized since 18th century with various names including phagedena gangrenosum, hospital gangrene, Meleney's gangrene, Fournier's gangrene etc. Although rare, it is frequent enough that surgeons will likely have to be involved with the management of at least 1 patient with NF during their practice, but it is infrequent enough to achieve complete familiarity with the disease. Establishing the diagnosis of NF can be challenging in treating these patients, and knowledge of all available tools is key for early and accurate diagnosis. The purpose of this article is to review the different tools available for diagnosis and the treatment principles for NF.
Case
A 21-year old man with no co-morbidities was referred to the regional orthopedic unit from emergency department of another hospital in the vicinity, with the history of trivial injury to his right knee two days ago. He accidentally hit his right knee to the wall two days back and sustained an abrasion to his knee. He started complaining of pain in his knee the next day and had to stop working. Pain got worse over night and he attended the emergency department the next day, from where he was referred to us with the suspicion of septic arthritis or cellulitis. He received intra-venous benzyl-penicillin and flucloxacillin in the emergency department.
On arrival, he was afebrile and systemically stable but in considerable pain. Examination of the right knee revealed small superficial wound over patella, slight redness and increased temperature in surrounding area with grade I effusion in the joint. Movements of the joint was reduced and associated with severe pain. Neurological and vascular examination of the limb was satisfactory.
The initial blood investigation revealed white cell count (WCC) count of 18.6 × 109/L, C-reactive protein (CRP) of 63.1 mg/L, and hemoglobin (Hb) level of 15 g/dL. X ray of the right knee did not show any bony injury or gas in the soft tissues. A working diagnosis of septic arthritis secondary to traumatic wound was made and urgent arthroscopic washout of the knee was performed that night. Arthroscopy revealed inflamed synovium and only 10 cc of fluid was drained from the knee. Urgent microscopy and gram stain of the fluid and later culture failed to reveal any organism.
Post-operatively, intravenous flucloxacillin and benzyl penicillin was continued along with gentamycin. Even after 72 hours of antibiotics patient remained symptomatic. Although he remained afebrile at all times, his pain and tenderness continued to increase in distal thigh and blood investigations revealed a marked increase in inflammatory markers (CRP of 181 and ESR of 37). Considering the failure to respond with intravenous antibiotics, negative arthroscopy and increasing tenderness in distal thigh, a suspicion of necrotizing fasciitis was made. Urgent contrast enhanced Computed Tomogram (CT) scan (Fig
1
) of his right thigh and knee was performed that revealed marked inflammatory stranding and low attenuation with suspicion of necrosis mainly in rectus femoris and vastus lateralis. Patient was taken to theatre urgently and fasciotomy performed through antero-lateral approach of the thigh which confirmed the CT findings of necrotic fascia and muscles (Fig
2
and
3
). Thorough debridement of rectus femoris and vastus lateralis was performed, wound was washed thoroughly and packed with betadine soaked swabs.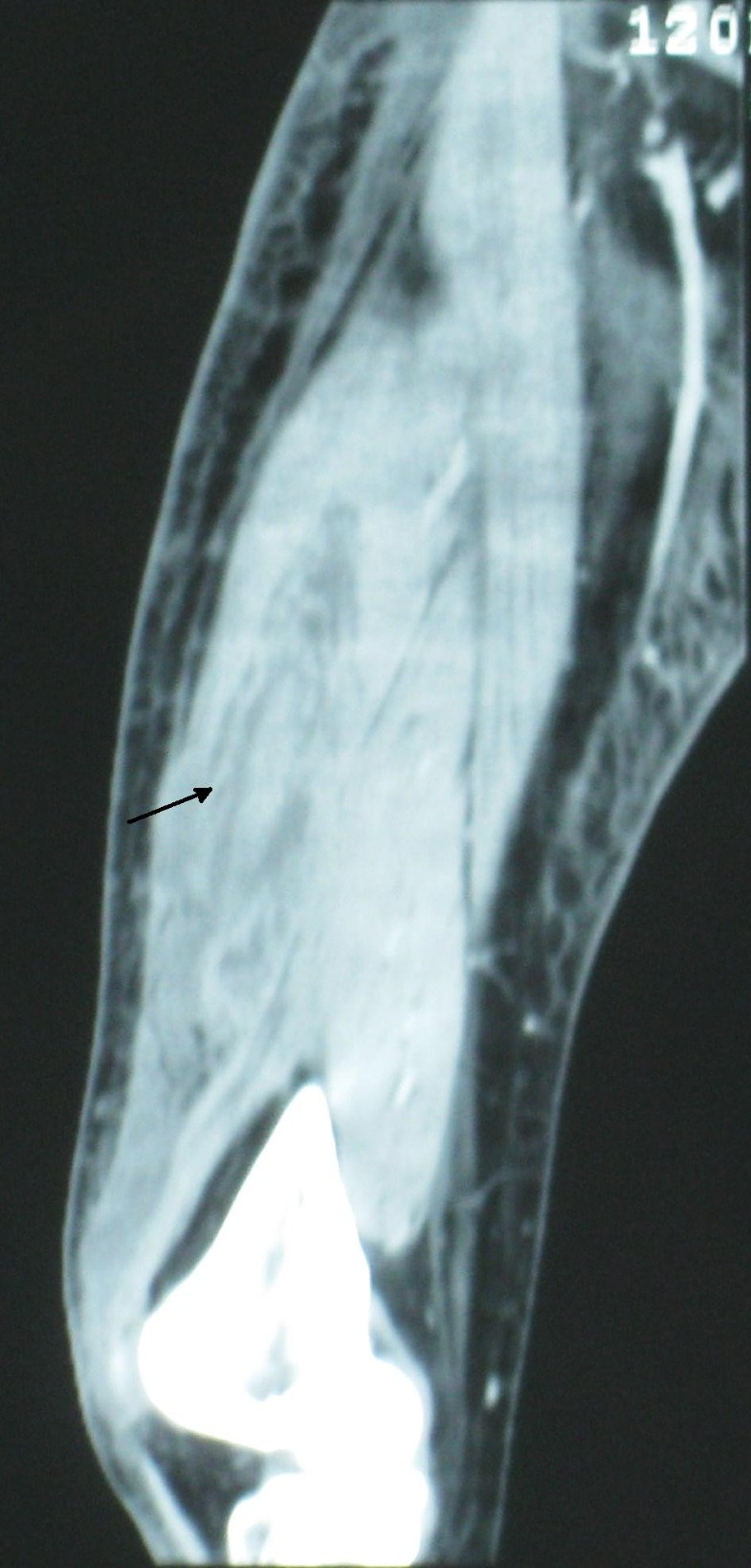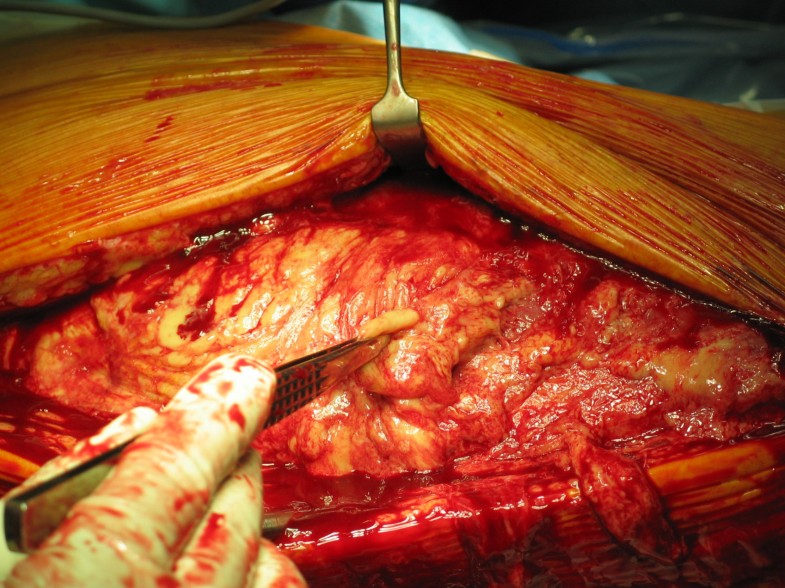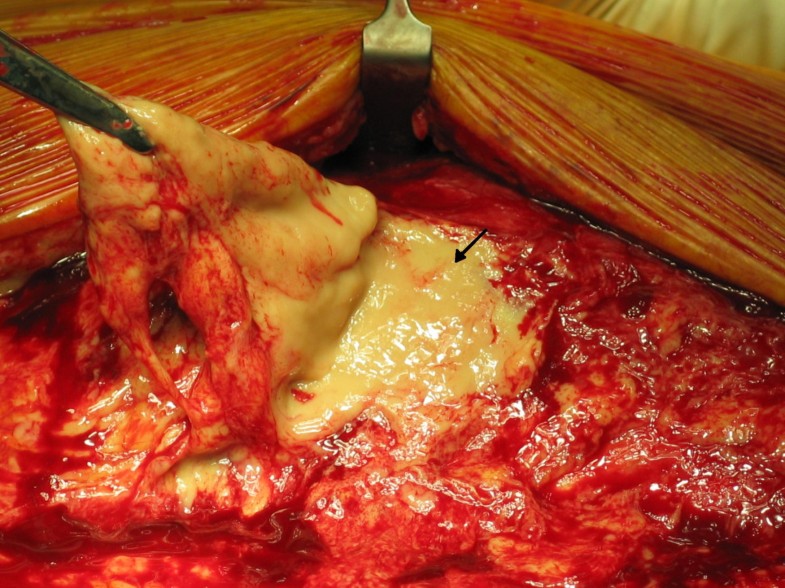 The case was discussed with microbiologist and intra-venous (IV) clindamycin and ciprofloxacin was added along with flucloxacillin and benzyl penicillin. IV hydration and oxygen therapy was maintained through out, with close observation of renal functions which remained stable.
Patient was taken to theatre again in 48 hours for re examination which showed more necrotic area in rectus muscle which was debrided again. Further two washouts with 48 hours interval, did not show any progression of necrosis and wound was closed gradually with staples and shoe lace technique. IV antibiotics were continued for 14 days followed by oral clindamycin and ciprofloxacin for 5 weeks. He remained stable systemically and responded well to the treatment as evidenced by normalizing inflammatory markers. The diagnosis was confirmed on tissue histology but causative organism remained unidentified.
Patient made an amazing recovery from this limb and life threatening condition which was made possible by multi-disciplinary approach involving orthopedics, general surgery, radiology, microbiology, physiotherapy and dieticians. Patient was discharged home after 19 days of in-hospital stay. At final follow up 3 months later he had full range of motion in his right knee and grade 4 power in knee extensors.
Disscussion
Necrotizing fasciitis is a rare, potentially fatal bacterial infection characterized by widespread necrosis of the subcutaneous tissue, superficial fascia and skin. This rare, life-threatening condition has been recognized since 18th century with various names including phagedena gangrenosum, hospital gangrene, Meleney's gangrene, Fournier's gangrene etc. A Confederate Army Surgeon, Joseph Jones, wrote one of the earliest descriptions of necrotizing soft tissue infections in soldiers during the American civil war in 1871 and reported a mortality rate of 46% [1]. In 1883, the French physician, Jean Alfred Fournier, described a similar NSTI of the perineum in five male patients – a process that continues to bear his name. In 1952 the condition was described as necrotizing fasciitis by Wilson for the first time to include both gas-forming and non-gas-forming necrotizing infection and stated that fascial necrosis is the sine qua non of this process. [2]. More recently, the term necrotizing soft tissue infection (NSTI) has been suggested to encompass all of these necrotizing infections and advocate an approach to all of them that uses the same principles for diagnostic and treatment strategies. This will allow for earlier diagnosis and expedited treatment, which are essential for improving outcomes and decreasing mortality in patients with NSTI [3].
Conclusion
NF is a rare life threatening condition that requires prompt recognition and aggressive surgical debridement along with broad spectrum antibiotics. Early diagnosis of the condition poses a challenge and high index of suspicion in crucial. Surgical debridement must be aggressive and complete and new therapeutic modalities like HBO and VAC may be considered for wound management.
Consent
Written informed consent was obtained from the patient for publication of this case report and any accompanying images. A copy of the written consent is available for review by the Editor-in-Chief of this journal.
Authors' Affiliations
(1)
Department of Orthopaedics, Our Lady of Lourdes Hospital, Drogheda, Republic of Ireland
Copyright
© Naqvi et al; licensee BioMed Central Ltd. 2009
This article is published under license to BioMed Central Ltd. This is an Open Access article distributed under the terms of the Creative Commons Attribution License (http://creativecommons.org/licenses/by/2.0), which permits unrestricted use, distribution, and reproduction in any medium, provided the original work is properly cited.