Abdominal Compartment Syndrome: pathophysiology and definitions
Scandinavian Journal of Trauma, Resuscitation and Emergency Medicine
2009
17:10
Received: 08 February 2009
Accepted: 02 March 2009
Published: 02 March 2009
Abstract
"Intra-abdominal hypertension", the presence of elevated intra-abdominal pressure, and "abdominal compartment syndrome", the development of pressure-induced organ-dysfunction and failure, have been increasingly recognized over the past decade as causes of significant morbidity and mortality among critically ill surgical and medical patients. Elevated intra-abdominal pressure can cause significant impairment of cardiac, pulmonary, renal, gastrointestinal, hepatic, and central nervous system function. The significant prognostic value of elevated intra-abdominal pressure has prompted many intensive care units to adopt measurement of this physiologic parameter as a routine vital sign in patients at risk. A thorough understanding of the pathophysiologic implications of elevated intra-abdominal pressure is fundamental to 1) recognizing the presence of intra-abdominal hypertension and abdominal compartment syndrome, 2) effectively resuscitating patients afflicted by these potentially life-threatening diseases, and 3) preventing the development of intra-abdominal pressure-induced end-organ dysfunction and failure. The currently accepted consensus definitions surrounding the diagnosis and treatment of intra-abdominal hypertension and abdominal compartment syndrome are presented.
Keywords
Cerebral Perfusion PressureAbdominal Compartment SyndromeIntrathoracic PressureMultiple System Organ FailureSuperior Mesenteric Artery Blood Flow
Review
Although initially recognized over 150 years ago, the pathophysiologic implications of elevated intra-abdominal pressure (IAP) have essentially been rediscovered only within the past two decades [
1
–
3
]. An explosion of scientific investigation and accumulation of clinical experience has confirmed the significant detrimental impact of both "intra-abdominal hypertension" (IAH) (see figure
1
), the presence of elevated intra-abdominal pressure, and "abdominal compartment syndrome" (ACS), the development of IAH-induced organ-dysfunction and failure, among the critically ill [
4
,
5
]. IAH has been identified as a continuum of pathophysiologic changes beginning with regional blood flow disturbances and culminating in frank end-organ failure and the development of ACS. ACS has been identified to be a cause of significant morbidity and mortality among critically ill surgical, medical, and pediatric patients. Previously present, but significantly under-appreciated, IAH and ACS are now recognized as common occurrences in the intensive care unit (ICU) setting [
6
–
16
]. Elevated IAP has been identified as an independent predictor of mortality during critical illness and likely plays a major role in the development of multiple system organ failure, a syndrome which has plagued ICU patients and physicians for decades [
8
,
17
,
18
].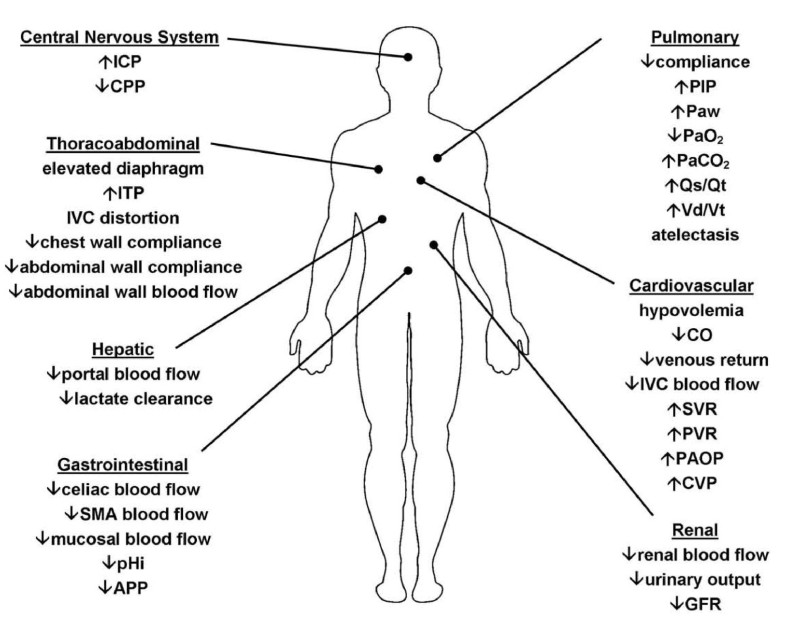 Recently, evidence-based consensus definitions and recommendations for the resuscitation and rehabilitation of patients with IAH and ACS have been published [19, 20]. Central to this evolving strategy are the use of early serial IAP measurements to detect the presence of IAH, application of comprehensive medical management strategies to reduce elevated IAP and restore end-organ perfusion, timely surgical abdominal decompression for refractory organ dysfunction, and early attempts at fascial closure once physiologically appropriate [21, 22]. Such a strategy has been demonstrated to significantly improve patient survival, reduce complications (such as enteroatmospheric fistula), and decrease resource utilization [23, 24]. The following review addresses both the pathophysiologic impact of elevated IAP on the various organ systems as well as the currently accepted definitions surrounding IAH and ACS. The diagnosis, prevention, and treatment of IAH/ACS have been addressed in a number of recent publications [6, 10, 12, 13, 19–22, 24–29].
History
The impact of elevated IAP upon respiratory function was first documented by Marey in 1863 and subsequently by Burt in 1870 [30]. In 1890, Henricius identified in an animal model that an IAP between 27 and 46 cm H2O significantly impaired diaphragmatic excursion leading to elevated intrathoracic pressure, respiratory failure, and death [30]. The theory that respiratory failure is the cause of death in severe IAH persisted until 1911 when Emerson demonstrated in cat, dog, and rabbit models that elevated IAP causes death by cardiovascular collapse rather than by respiratory failure [30]. The detrimental effect of elevated IAP on renal function and urinary output was first identified by Wendt in 1876 and the restoration of urinary output through abdominal decompression by Thorington and Schmidt in 1923 [31–33]. Overholt extensively studied the properties of the abdominal wall and confirmed that normal IAP is subatmospheric and that procedures which restrict movement of the abdominal wall or distention of the stomach or colon all result in an increase in IAP [34]. He postulated that IAP is governed by both the pressure induced by the abdominal contents and the "flexibility" (compliance) of the abdominal wall. Investigation into the physiologic effects of IAP on renal function in humans essentially began in 1947 with the work of Bradley [35]. The experiences of surgeons treating infants with gastroschisis or omphalocele further contributed to our understanding of both the concept of "loss of abdominal domain" as well as the life-threatening cardiac, pulmonary, and gastrointestinal complications which can occur when abdomens are primarily closed without consideration of elevated IAP [36–39]. Gross, in 1948, first described the use of a "staged abdominal repair" in the management of such infants unknowingly pioneering the open abdomen techniques which have now become standard in the treatment of IAH and ACS [36].
Although surrogate measurement of IAP via measurement of intravesicular, intragastric, and intracolonic pressure in animal models was commonplace in the 1920's and 1930's, it was Söderberg who, in 1970, first described the strong correlation between IAP and intravesicular pressure during laparoscopy in humans [40]. The landmark work of Harman, Kron, and Richards in the early 1980's "rediscovered" IAH as a cause of unexplained oliguria and subsequent renal failure in post-operative patients with abdominal distention [32, 41, 42]. They further reported the benefits of open abdominal decompression in restoring renal function and improving patient outcome in patients with an IAP in excess of 25 mmHg [32, 41]. The introduction of laparoscopic techniques into mainstream surgical practice in the late 1980's and early 1990's led to numerous experimental and clinical studies which further advanced our understanding of the injurious effects of elevated IAP on cardiac, pulmonary, renal, gastrointestinal, hepatic, and cerebral function. Increased appreciation of these effects by both anesthesiologists and surgeons set the stage for recognition of both IAH and ACS in the critically ill patient population.
Pathophysiology
An increasing body of literature has identified the significant physiologic derangements that occur as a result of elevated IAP. The effects of IAH are not limited just to the intra-abdominal organs, but rather have an impact either directly or indirectly on every organ system in the body. As a result, patients with prolonged, untreated IAH commonly manifest significant malperfusion and subsequent organ failure. Pre-existing comorbidities, such as chronic renal failure, pulmonary disease, or cardiomyopathy, play an important role in aggravating the effects of elevated IAP and may reduce the threshold of IAH that causes the clinical manifestations of ACS. The etiology for the patient's IAH is similarly of vital importance and may be determined as being either intra-abdominal, as occurs in surgical or trauma patients following damage control laparotomy, or extra-abdominal, as occurs in medical patients with sepsis or burn patients who require aggressive fluid resuscitation [6, 7, 43–46].
Definitions
In 2004, a consensus conference was convened by the World Society of the Abdominal Compartment Syndrome (WSACS)
http://www.wsacs.org
consisting of European, Australasian, and North American surgical, trauma, and medical critical care specialists. Recognizing the lack of accepted definitions, and the resulting confusion and difficulty in comparing studies published in this area, the WSACS tasked these specialists to create evidence-based definitions for IAH and ACS. After extensively reviewing the existing literature, the authors suggested a conceptual framework for standardizing the definitions of IAH and ACS as well as a general technique for IAP monitoring based upon the current understanding of the pathophysiology of these two syndromes [
19
]. A brief summary of these definitions follows (Table
1
).
| | |
| --- | --- |
| Definition 1 | IAP is the steady-state pressure concealed within the abdominal cavity. |
| Definition 2 | APP = MAP - IAP |
| Definition 3 | FG = GFP - PTP = MAP - 2 * IAP |
| Definition 4 | IAP should be expressed in mmHg and measured at end-expiration in the complete supine position after ensuring that abdominal muscle contractions are absent and with the transducer zeroed at the level of the mid-axillary line. |
| Definition 5 | The reference standard for intermittent IAP measurement is via the bladder with a maximal instillation volume of 25 mL of sterile saline. |
| Definition 6 | Normal IAP is approximately 5–7 mmHg in critically ill adults. |
| Definition 7 | IAH is defined by a sustained or repeated pathologic elevation of IAP ≥ 12 mmHg. |
| Definition 8 | IAH is graded as follows: |
| |    • Grade I: IAP 12–15 mmHg |
| |    • Grade II: IAP 16–20 mmHg |
| |    • Grade III: IAP 21–25 mmHg |
| |    • Grade IV: IAP > 25 mmHg |
| Definition 9 | ACS is defined as a sustained IAP > 20 mmHg (with or without an APP < 60 mmHg) that is associated with new organ dysfunction/failure. |
| Definition 10 | Primary ACS is a condition associated with injury or disease in the abdomino-pelvic region that frequently requires early surgical or interventional radiological intervention. |
| Definition 11 | Secondary ACS refers to conditions that do not originate from the abdomino-pelvic region. |
| Definition 12 | Recurrent ACS refers to the condition in which ACS redevelops following previous surgical or medical treatment of primary or secondary ACS. |
Conclusion
Elevated IAP commonly causes marked deficits in both regional and global perfusion that, when unrecognized, result in significant organ failure and patient morbidity and mortality. Significant progress has been made over the past decade with regard to understanding the etiology of IAH and ACS as well as implementing appropriate resuscitative therapy. Routine measurement of IAP in patients at risk is essential to both recognizing the presence of IAH/ACS and guiding effective treatment. Adoption of the proposed consensus definitions and recommendations has been demonstrated to significantly improve patient survival from IAH/ACS and will facilitate future investigation in this area.
Appendix 1 – Signs of Abdominal Compartment Syndrome
Abdominal distention
Elevated IAP
Oliguria refractory to volume administration
Elevated PIP
Hypercarbia
Hypoxemia refractory to increasing FiO2 and PEEP
Refractory metabolic acidosis
Elevated ICP
Legend: These represent the most common organ dysfunctions associated with the development of severe intra-abdominal hypertension and a diagnosis of abdominal compartment syndrome.
Abbreviations
IAP:

intra-abdominal pressure
IAH:

intra-abdominal hypertension
ACS:

abdominal compartment syndrome
MAP:

mean arterial pressure
APP:

abdominal perfusion pressure
FG:

filtration gradient
GFP:

glomerular filtration pressure
PTP:

proximal tubular pressure
PIP:

peak inspiratory pressure
FiO2:

fraction of inspired oxygen
PEEP:

positive end-expiratory pressure
ICP:

intracranial pressure
PAOP:

pulmonary artery occlusion pressure
CVP:

central venous pressure.
Authors' Affiliations
(1)
Department of Surgical Education, Orlando Regional Medical Center, Orlando, USA
Copyright
© Cheatham; licensee BioMed Central Ltd. 2009
This article is published under license to BioMed Central Ltd. This is an Open Access article distributed under the terms of the Creative Commons Attribution License (http://creativecommons.org/licenses/by/2.0), which permits unrestricted use, distribution, and reproduction in any medium, provided the original work is properly cited.